BRADY ORGANIZATION "OUTS" OBAMA
While we all watch the Presidential campaign getting uglier and more desperate as it approaches its end, I find myself wondering why the pro-gun-owner candidate puts so much effort into nebulous maybe provable allegations against his anti-gun-owner opponent, when he could be nailing him to the wall with demonstrable, provable lies by Barack Obama.
My old friend Alan Korwin, a long-time fighter for the civil rights of firearms owners, had this to say after the last debate between McCain and Obama.
I ain't no political savant, but I also try not to be a schmuck. In the last couple of days, I've been inundated with Democratic campaign mail quoting that phony Trojan Horse organization that pretends to be pro-gun, telling me that it's OK to vote for Obama. Read the link above. Decide for yourself.
As you read it, please understand that the Brady Campaign, the most virulent gun-banning organization extant, has just publicly endorsed Barack Obama. Will Obama refute their support, despite the radical stances those people have taken over the years? Not hardly.
It is frustrating for me to watch a debate in which McCain never brings up the gun owners' rights issue. Instead, I see his supporters sending out Obama rumors over the Internet, rumors which they can't substantiate. These would-be "swiftboaters" are launching torpedoes that are backfiring and sinking their own credibility.
Hey, I don't want to see Barack Obama elected. I see all this crap about him being a Muslim, and his name spelled "Barack HUSSEIN Obama," and I cringe, just as I do when I see the "Osama/Obama" play on words. I think it would be particularly hypocritical for a guy named "Massad Ayoob" to play that card, and I don't happen to be Muslim, but I just don't think that's the issue. The issue is, dammit, Barack Obama has provably, demonstrably lied to the public about his position on firearms ownership, and a man who will lie about one thing will lie about the other things.
It ain't about Osama Bin Laden.
It's about Obama Been Lyin'.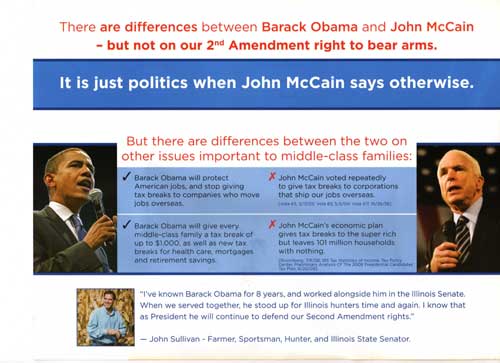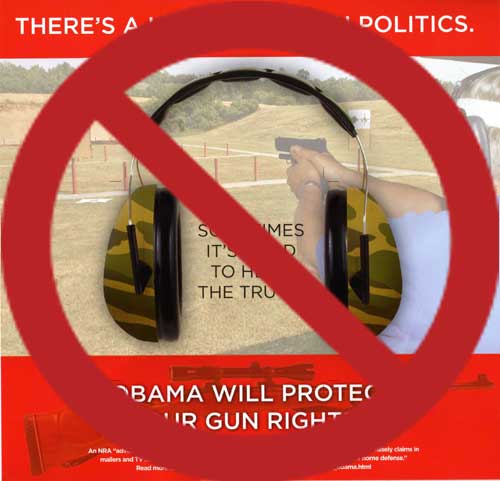 Don't believe it…