Last class of the year…COMPLETE.  Last court appearance of the year…DONE.
There are still deadlines, gun tests, and some demonstrative evidence and such to be recorded, but dammit, this is as close as I get to vacation, and I'm gonna enjoy it.
Christmas is upon us, and whatever your belief system, even secular folks find it to be a landmark on America's calendar.
This is the Gun Corner of the Backwoods Home blogs.  While I may actually have all the guns I need, I don't necessarily have all the guns I want, so there is still that element of the Christmas List in abeyance.
Elsewhere in my life, however, I expect I'll be giving at least one firearm as a present to someone I care about, and I'd really like to give one more.
My significant other, the Evil Princess of Podcasts, Pixels, and Polymer Pistols, has become enamored of the short-lived and now discontinued Glock RTF2 series.  She wasn't that interested in them when they came out.  However, she "rediscovered" the concept (gill-shaped slide grooves, and a gazillion little prongs sticking out of the grip that just lock the pistol into the firing hand), she decided she had to have one. Or more.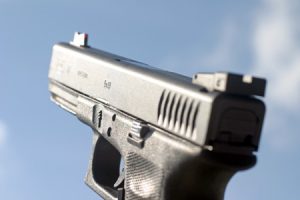 There was a full-size Glock 17 9mm in the gun shop where she and I tend to hang out, and I bought it for, uh, "us."  That was supposed to be our "shared custody" pistol, but after she put Dawson adjustable fiber optic sights on it, it has spent all its time with its female parent. She wanted another one, so I bought her a Glock 23 .40 caliber RTF2 (thanks, Ernie).  But now, not being satisfied with a RoBar Custom Glock 30S .45 apparently, she wants a Glock 19 RTF2 for concealed carry.  (Not the one Glock recently produced as a special run for one distributor with straight slide grasping grooves: she's gotta have GILL-shaped grooves, or nuthin'.)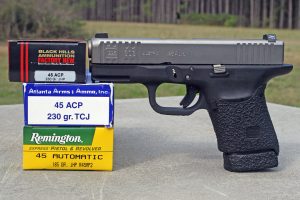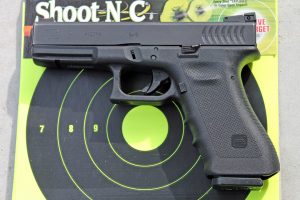 So…help a poor old man to make his life happier. If you see a 9mm Glock 19 RTF2 with gilled slide serrations at your local gun shop, let me know and give me a seller contact, preferably in time for Christmas. Sigh…
But, enough about that.  Black Friday, the premier shopping day after Thanksgiving, set a record for firearms purchases that put our anti-gun President's teeth on edge. (Thank you all for that!)
What guns are you buying for Christmas gifts for folks you care about, and what guns do you want for the Holiday Gift Season yourself?  (Brief but important hint: let the adult recipient decide what gun they want, and get that person a gift certificate at the gun shop, and make sure THEY fill out the 4473 form for it. If you're buying it for someone too young to buy it from an FFL dealer themselves, make sure possession stays in your household to avoid anti-gun-motivated BS.)