For shooters you want to remember on Christmas, no matter what your budget, consider ammunition.  Your gift budget simply determines the volume.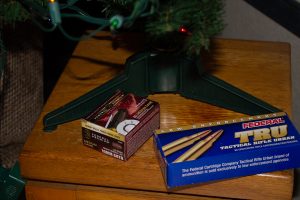 Big box stores sell shotgun shells in birdshot loads for less than a sawbuck for a box of 25. Deer rifle ammo will run $16 to $25 for a box of twenty standard soft-nose rounds, more for high-tech premium.  A box of 20 rounds of defensive carry ammo for handguns will go for $20 to $30 at your gun shop, and that includes some of the best high-tech stuff.  .22 Long Rifle, of course, is even cheaper.
A few caveats on that, though.  First, make sure the ammo is right for the gun.  3" Magnum 12 gauge shells won't be right for a 12 gauge shotgun with the standard 2 ¾" chambering.  .45 Auto ammo won't work in a revolver chambered for .45 Colt.  Gun dealers can tell you stories about customers who bought the wrong ammo for someone else, or even themselves.
Have a chat with the giftee about their favorite ammo.  A hunter who goes after ducks exclusively will need steel or bismuth shot, not lead.  A lot of defense-minded gun owners are very type-specific and even brand-specific about what they'll put in their carry or bedside gun. My dad was a smoker, and a carton of unfiltered Camels was always among the things I got him for Christmas; if I had given him a carton of Lucky Strikes instead, he might have disowned me. Some shooters are like that with their ammo brands.  Just as the bourbon connoisseur who insists on Knob Creek won't be drinking even a gift bottle of Bubba's Generic, the serious shooter who loads his 9mm with 147 grain Federal HST or 124 grain +P Speer Gold Dot wants only that, and not a substitute.  If you give your deer-hunting cousin a box of 150-grain .30/30 ammo, it probably won't hit to the exact same point of aim/point of impact coordinates as the 170-grain loads he sighted his rifle in for, and it could be the difference between a hit and a miss, a cleanly bagged or horribly crippled animal next hunting season.
There may be some folks on your gift list who need good ammo more than others. Those will tend to be the casual as opposed to "enthusiast" gun owners.  Your neighbor who shoots a deer every year but hasn't bought a box of ammo in two or three years will probably be loading with ammo that got chewed up running it through his Winchester '94 every time he loaded and unloaded it, and that can deform the rounds sufficiently to impair accuracy.  The guy who unloads his carry pistol every night and then reloads it and rechambers the same round the next morning has almost certainly compromised the cartridge that has been in and out of the chamber more than a couple of times.  Some folks need to think about that more, and the person who gives them good, fresh ammo may literally save their life, depending how the future goes.
My most memorable Christmas in terms of gifts was probably my twelfth.  My dad gave me a Colt 1911 .45 pistol, military surplus, that turned out to have been manufactured in 1918. I still have it, and shot it this year to commemorate its centennial.  But you know, that same year my sister gave me a shoulder holster to go with it, and one uncle gave me a box of Winchester .45 ACP ammo for it, all together under the tree.  And I remember Elizabeth's gift and Uncle Whitney's just as much as my dad's, more than half a century later.
Just sayin'…