Being one of those folks who love to get books for Christmas, I naturally tend to GIVE books for Christmas.


One I can strongly recommend is "Practical Home Security" by Alex Haddox.  I know Alex, and though his main foundation is as a martial arts instructor, I can tell you he knows his way around guns.  This isn't a gun book, though; it's a common sense approach to home safety.  An excellent gift for the people in your life who think the world is full of unicorns and moonbeams and butterflies, and don't listen to your good advice about keeping their family safe.  Maybe they'll listen to a gentle but persuasive voice like that of brother Haddox.  You (and they) can listen to his good advice in snippets on his free podcast, here:  The Practical Defense Podcast or on iTunes.  The book can be ordered from Amazon.
Are  you a rifle shooter, or do you have a rifle owner on your gift list?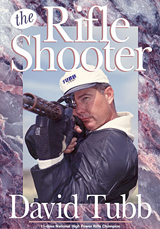 If so, remember you don't have to be a competitor at the National Championships at Camp Perry to benefit from the advice of one of the all time great National High Power Rifle Champions.  That would be one David Tubbs, who took the title no less than eleven times.  His advice is sometimes subtle and arcane, but the book is a solid read, and I couldn't put it down.  You may not adopt his signature style of canting the rifle to the side as he aims, but you'll be fascinated to understand his clearly explained rationale of why he does it that way…and you'll want to try it.  New shooter or old hand, Appleseed attendee or deer hunter, there is information in his book "The Rifle Shooter" which will make you better at it.
"Practical Home Security" is inexpensive. Hell, you can give a bunch of 'em out for stocking stuffers.  "The Rifle Shooter" is not inexpensive, at least by Barnes & Noble standards, but one thing I've found over the years is that expensive books are ideal gifts for people who would have been too frugal to buy them for themselves, and they cherish the gift all the more.  It's also a helluva lot cheaper than taking a rifle course with a professional like Tubbs, and trust me, any rifle owner who reads it will get a lot out of it.