DEATH OF AN ARMED CITIZEN AND HERO: 10TH ANNIVERSARY
Today marks the tenth anniversary of a mass shooting in which a courageous armed citizen ended the carnage.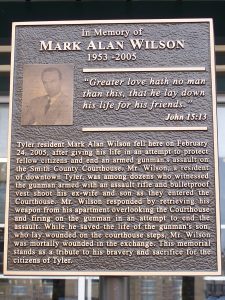 Tragically, the bullets from Mark Wilson's subcompact Colt .45 auto were stopped on the killer's vest, and he was able to shoot and murder Wilson.  But after that he fled, and he inflicted no further gunshot wounds. In the pursuit that followed, the murderer was shot and killed by Lt. Rusty Jacks of Tyler PD.
I've been to Tyler a couple of times since then, once for a grand jury and once for a civil trial arising out of another fatal shooting, both in the courthouse where the atrocity we're discussing went down. You can still see the pockmarks from the gunman's bullets on the walls of the building. I've debriefed some of the lawmen and lawyers who were in the courthouse when that nightmare took place. I'm proud to have been able to shake the hand of Rusty Jacks.
And I've stood in front of the monument in the Tyler town square to a courageous armed citizen who used his pistol to stop a mass murder, and save the lives of God knows how many people in his community.
RIP, Mark Wilson. You were a hero.