I'm writing this in Chicago, one of the locales where Johnny Depp and the rest are filming on location for their upcoming movie about John Dillinger and Baby Face Nelson. Didn't catch the filming, but snapped a shot of one of the production company's camera booms still in place at the intersection of Clark, Sheffield, and Newport, on a block where the architecture was still true to the period, the early 1930s. I was told that with the city's permission, the film-makers had pulled up modern parking meters, and laid down expensive mats that duplicated cobblestone.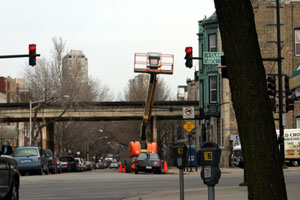 Historian Dary Matera called Dillinger "America's first celebrity criminal," a title that Jesse James and Billy the Kid might have taken issue with. Stopping at the Biograph Theater where Dillinger was killed in 1934 (now the remodeled Victory Gardens Theater), I was reminded that this much-feared bandit and his gang tasted the lead of armed citizens who shot back during their depredations.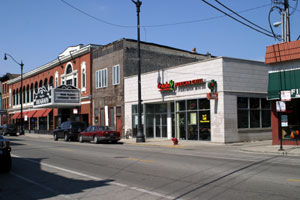 The Biograph Theater, left, still stands. On a July evening in 1934, John Dillinger was shot and killed at the mouth of the alley seen in right foreground. The restaurant seen in photo occupies space that was a grocery store at the time.
When they robbed a bank in South Bend, Indiana, and shot it out with police, Dillinger, Nelson and the rest of their gang were unscathed by the gunfire of the lawmen. However, a jeweler located near the bank did better. He shot Baby Face Nelson square in the back, but the little bullet from his target .22 handgun was stopped by Nelson's steel vest, and a burst from Nelson's submachine gun drove him back into his store. He emerged again and fired a shot that "creased the skull" of Dillinger henchman Homer Van Meter, knocking him so silly that Dillinger had to pull Van Meter out from behind the wheel before the gang could make their getaway.
In another holdup, Dillinger and one of his cohorts were each shot in the shoulder by an elderly judge, from his office window, using what the newspapers of the time called an "antique revolver." In yet another incident, a fleeing Dillinger colleague was captured at gunpoint by two armed citizens. He pulled a gun on them and opened fire; one of those ordinary citizens, a local farmer, promptly blew the top of the criminal's head off with a double-barrel 20 gauge shotgun.
It will be interesting to see if any of these classic examples of armed citizens successfully taking on the most desperate, heavily armed criminals of their time (and winning!) will be depicted in the forthcoming movie. I've written about them in greater detail in my "Ayoob Files" column in American Handgunner magazine, and if you're interested, I believe that material may be archived at www.americanhandgunner.com.