DON'T TRY THIS AT HOME, KIDS…
In one of my favorite used bookstores, I recently picked up a copy of LIFE magazine from April 10 of 1939. Amidst the ads for big ol' Hudson sedans for $695 new off the showroom floor and Dodge Luxury Liners at $756 for a coupe and $815 for a sedan, firearms were distinctly in evidence in the main body of the reporting.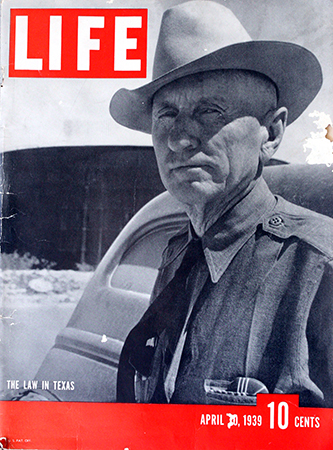 With the Nazi threat looming, LIFE reported, Europe was shipping gold to the US for safekeeping, and the largest shipment yet – sixty million in 1939 dollars – was being guarded by a fella with a Colt double action revolver and a Thompson submachinegun.
The main theme of that issue was a focus on Texas. A well-worn Westerner was depicted sitting on a porch with his back to the camera, a Colt 1911 .45 auto prominently holstered on his hip. The caption read, "Texans still tote loaded guns."  (Oddly enough, that open carry in public would not be legal today in the Lone Star State, though unlike the fellow in the picture today's Texan can get a permit to carry a concealed handgun.)
So far, so good. But then, in a segment titled "Texans Are Lusty," there were the three pictures below.
Making a shot with a revolver bent over, upside down? Well…been there, done that.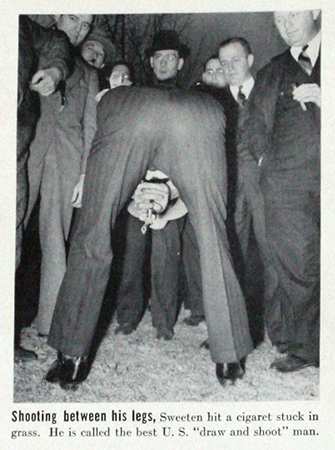 Three of you grabbing your friend and one of you trying to pull his presumably loaded six-shooter out of his holster, while there's a whisky bottle in his hip pocket? Gee, I guess the mainstream media was already a little anti-gun when they staged that one for the camera 74 years ago.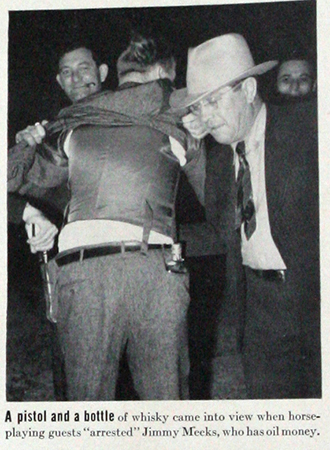 The piece de resistance of the sequence, though, is one Stetsoned Texan shooting a cigar out of another's mouth with a six-inch barrel target revolver.  To which I can only say…well, nothing that will pass the family-friendly filter of Backwoods Home.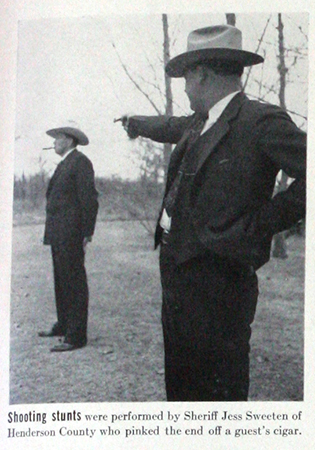 That trick was supposedly a staple of Annie Oakley's act. It was said that on one of her European tours prior to World War I, she blew the tip of a tube of tobacco out of the mouth of Kaiser Wilhelm.  After the war began, the legend says, Ms. Oakley invited the Kaiser to give that one more go.  He apparently declined, perhaps realizing the feisty American hero might do it this time with him facing her.
Shooting a cigar or cigarette out of someone's mouth with live ammunition?  "Only in Texas," the effete anti-gunners of the time might have sniffed. "That certainly wouldn't happen in a civilized place, such as Los Angeles!"
Au contraire, Muffy.  The LIFE photos below post-dated by three years the film which follows in this blog, recently discovered from the archives of the Los Angeles County Sheriff's Department.  Watch it, and revel in the fact that firearms safety is better in America in the 21st Century.
Video here: