We're only a week out from Christmas. If you're looking for last-minute presents for your "gun culture" giftees, there's still time for Amazon…and books are among my favorite gifts to both receive and deliver.  Any book you want to order, click on the book cover shown below.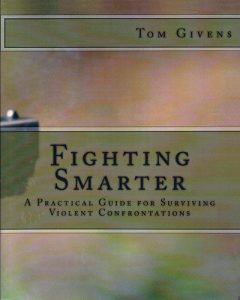 "FIGHTING SMARTER," the updated version of "Fighting Smart" by my old friend and fellow instructor Tom Givens would be an excellent choice.
The book incorporates the lessons of sixty-plus of his civilian students who've been in gunfights on the mean streets of Memphis. None of his students has lost a gunfight, though there have been a couple of "defaults" – students who, for whatever reason, were unarmed when criminals murdered them and were thus unable to fight back. Tom constantly invokes the point of one of Jeff Cooper's acolytes, Mark Moritz: "The first rule of gunfighting is, HAVE A GUN."  Some of the points Tom emphasizes are constant awareness, regular honing of defensive skills, using a two-hand hold and getting some sort of a sight picture if possible, and "using enough gun."  (And having enough ammo.)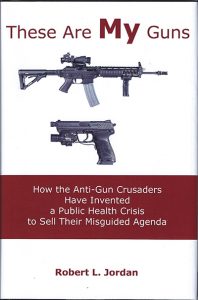 "THESE ARE MY GUNS!" by Robert L. Jordan is timely, in a world where gun owners' civil rights are once again under powerful, focused attack. It's an excellent compendium of clear, logical arguments and statistics to defeat the BS arguments of the Prohibitionists. Those folks were tweeting all their anti-gun minions to make "gun safety" gun confiscation a family topic at Thanksgiving. Don't know how that went on your end, but on mine, the closest we came to that at Thanksgiving was my surrogate step-daughter showing me her new holsters for her 9mm concealed carry pistol.  Come to think of it, if you're not averse to a family feud on Christmas morning, a copy of "These Are MY Guns" would make an excellent gift for anti-gunners on your Christmas list…
"Navy SEAL Shooting" by Chris Sanjog is another good example of clear writing,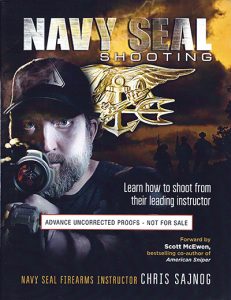 and I think would be well received by any shooter on your Christmas list  and particularly valuable to new shooters. Any two instructors will debate some points within their discipline, unless they're clones of each other, but since my review copy is conspicuously marked "Advance Uncorrected Proofs," there's probably fewer nits I'd pick in your copy than in mine. Lots of good stuff in the Sanjog book.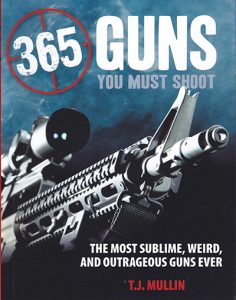 "365 Guns You Must Shoot" is written by another old friend, a scholar of the gun named Tim Mullin. Now, if you think two specialists in the field might not agree on a few things, you KNOW they're not going to agree on 365 things, but there was nothing in Tim's newest book that wasn't of interest, and he writes from extensive trigger-pulling experience as well as long research. This one is particularly good for the gun enthusiast who is into firearms in general.
Feel free to offer other holiday gift suggestions for shooters, here.