A while back, I posted about "grail guns," items collectors have a particular yen for. Mine was the full-size Smith & Wesson .357 Magnum revolver in the iconic 3.5" barrel configuration. We got lots of good, nostalgic comments from readers about their particular "grails."
Well, after a lot of false starts, I can quote Hagar the Horrible and happily say, "I got mine!" I just had one of those landmark birthdays with a "0" at the end, and my sweetie and some friends chipped in and got me one from an Internet gun auction source.
Marked with a little bit of honest wear that just gives it more character, this sculpture of finely finished blue steel and well-worn checkered walnut is a five-screw (read: "Old World detail and craftsmanship) revolver whose serial number indicates it was produced in late 1954 or early 1955. In the name of production economy, Smith & Wesson eliminated the upper sideplate screw about a year after this one left the factory, and decided it could do without the one in front of the trigger guard circa 1961-62. Smith & Wesson introduced this gun and its cartridge in 1935, calling both simply ".357 Magnum." Along about 1957, S&W went with numeric model designations, dubbing this one the Model 27. Thus, earlier specimens such as this one are known to collectors as "pre-27s."
This one is as tight and functional as the day it left the factory. This deluxe series was always famous for its smooth action, but this one is particularly slick and light of pull, in both double action and single action modes.
As I sit here fondling this long awaited masterpiece of the gunmaker's art, my significant other sighs and mutters, "Men…they're so easily satisfied."
I don't understand why she says it as if it was a bad thing…
Below, the "birthday gun," a pre-Model 27 with 3 .5″ barrel. Gorgeous finish has wear that "shows character."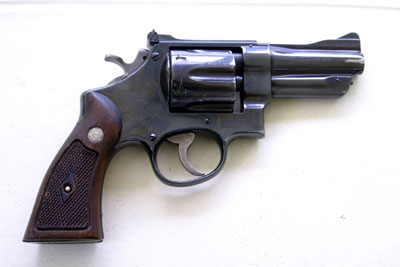 "5th screw," below rear sight on sideplate, and "4th screw," at front of trigger guard, have long been gone from modern Smith & Wessons.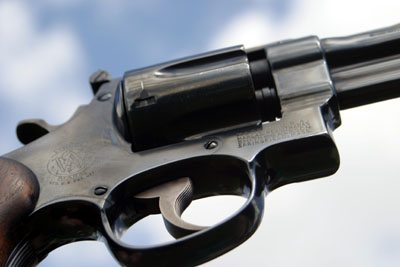 The barrel configuration of this particular model is unique and distinctive.