The Pin Shoot I've been talking about the last couple of entries is in the history books now. Great time had by all.  Only about 140 or so shooters, when in the old days it was hundreds, but after a near twenty-year layoff, the word many not have gone out soon enough. On awards night, I lost count of the prize guns somewhere around sixty or so.
Notable points: Kimberly Heath lowered the overall testosterone level when she won the Concealed Carry event shooting a micro-size 1911 .45.  Nothing new for her: she was overall winner at the National Patrol Rifle Championships a few months ago too.  She and her husband Jeff Chudwin, a several time NPRC winner himself, dominated the two-person rifle event.  No surprise there, either.
Old friend Pat Sweeney, Handgun Editor for Guns & Ammo, upheld the honor of gun writers better than I did, winning a bunch of guns and the overall victory in the revolver match, which requires eight bowling pins to be blown away with a mandatory reload after the first six shots.
Lots of folks brought their kids, and old folks brought adult children.  Ashley Gibbons was in a stroller when her mom and dad brought her to the shoot the first time in the late 1970s; for this one, she was there pushing the stroller instead of riding it, with her adorable nine-month-old twins Lily and Madeleine.  And, of course, her parents.  Three generations at once – yes!
This week was the first time I saw Jerry Moran, the past master of Colt Python action jobs, in about forty years.  He had never met Denny Reichard, whose Smith & Wesson revolver action work today is unexcelled in my opinion.  One of the pleasures of my life is introducing people who will benefit from knowing each other.  I introduced these two, and their conversation that ensued would hold any revolver enthusiast rapt.  I wish I had thought to record it.
Shooting competitions aren't just about the shooting.  They're about the people, too.  Hell, I can shoot at home; I go mainly for the people.
Same place next year, along about the second week in June. Keep an eye on their website, www.pinshoot.com.
Kimberly Heath, here with full size 1911, shows the form she used to win the Concealed Carry event with a smaller .45.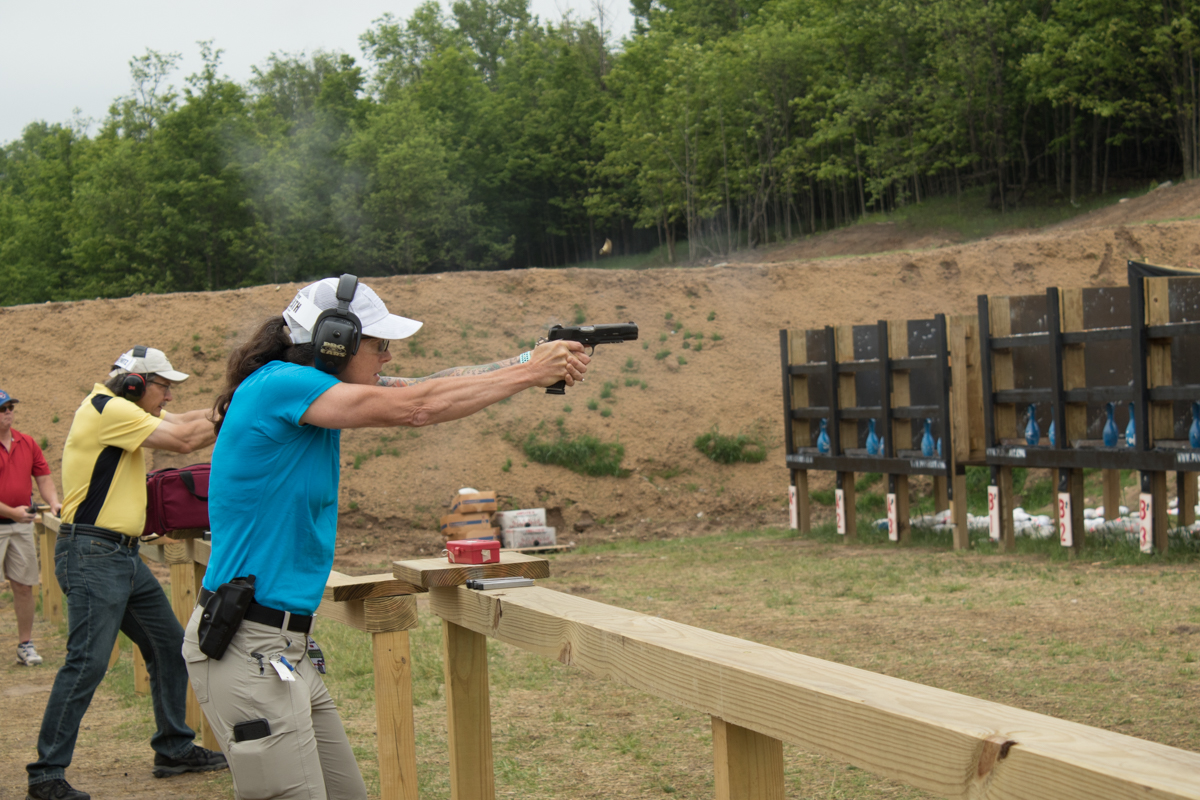 Sara Campos shoots two-person team with her dad, a regular pin shooter in Ye Olde Days.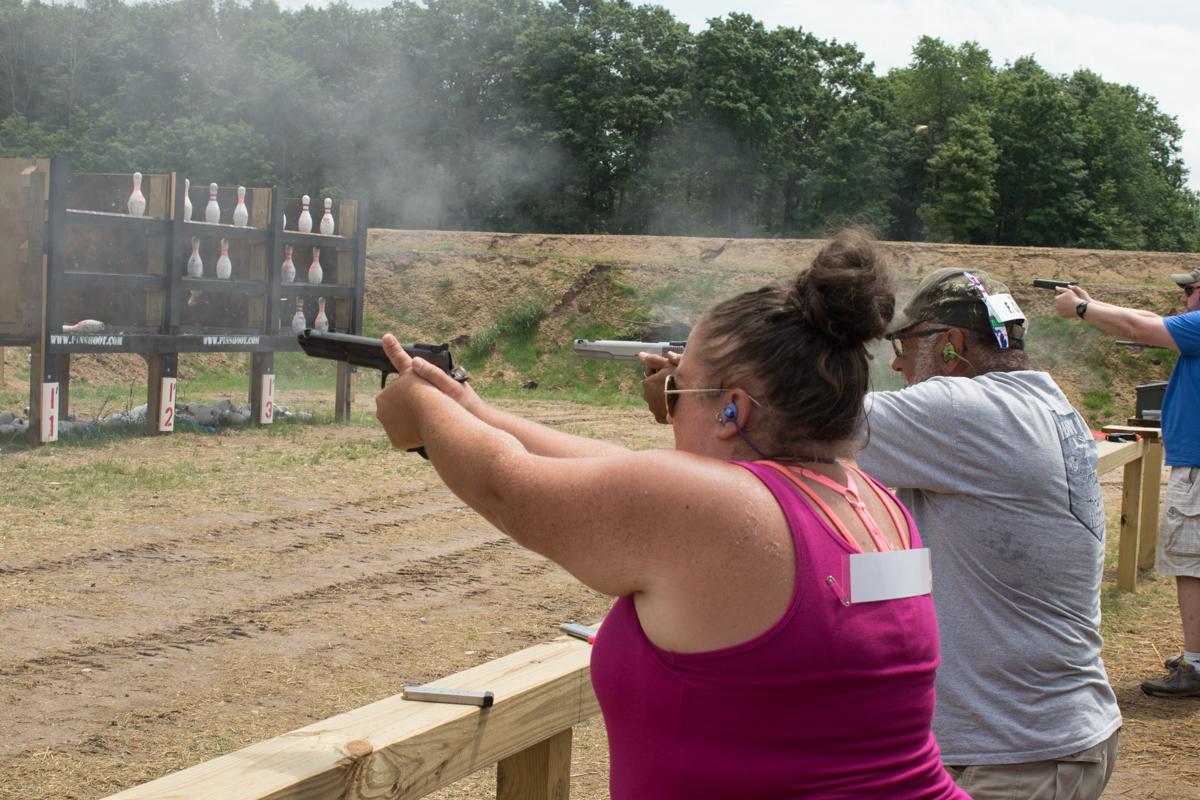 Rich Davis, founder of the shoot from its earliest days and rangemaster now, autographs the Second Chance (his old company) toddler size tee shirt Ashley Gibbons wore when she first came to the shoot as a rug rat.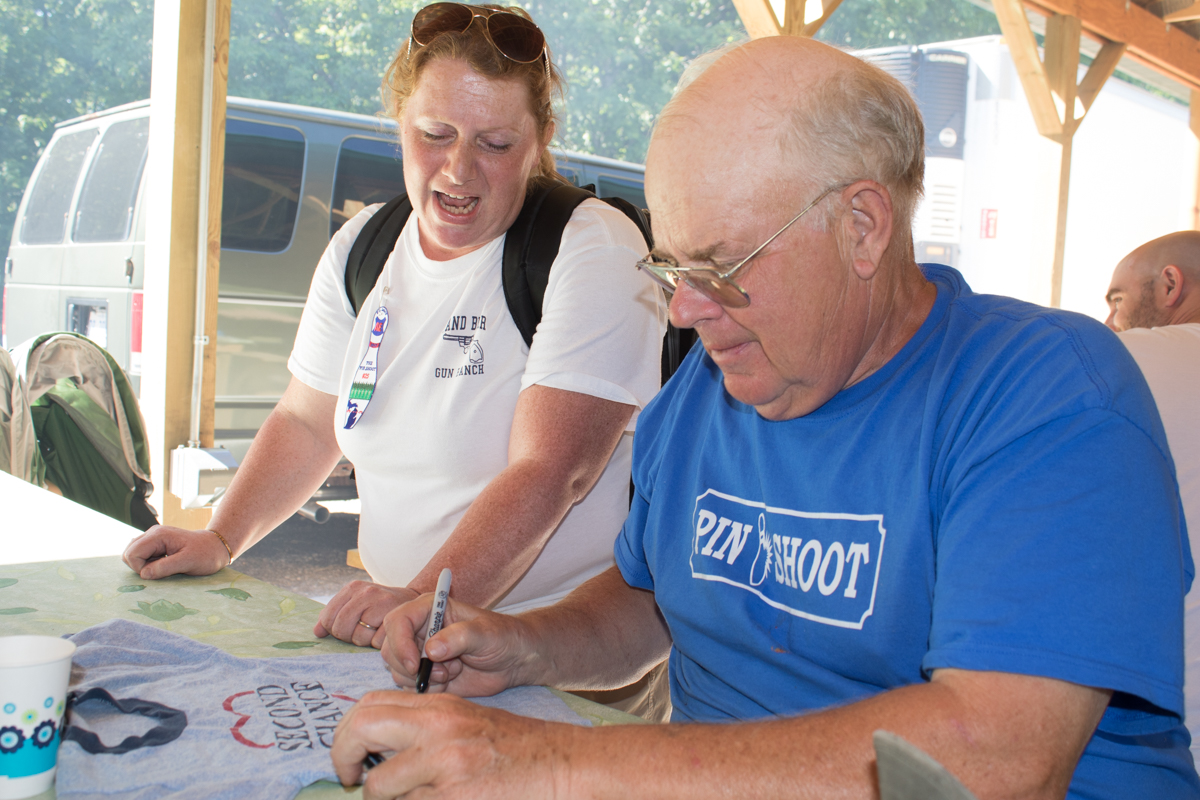 Here's Ash at the shoot this week, with her own twins — future shooters, no doubt.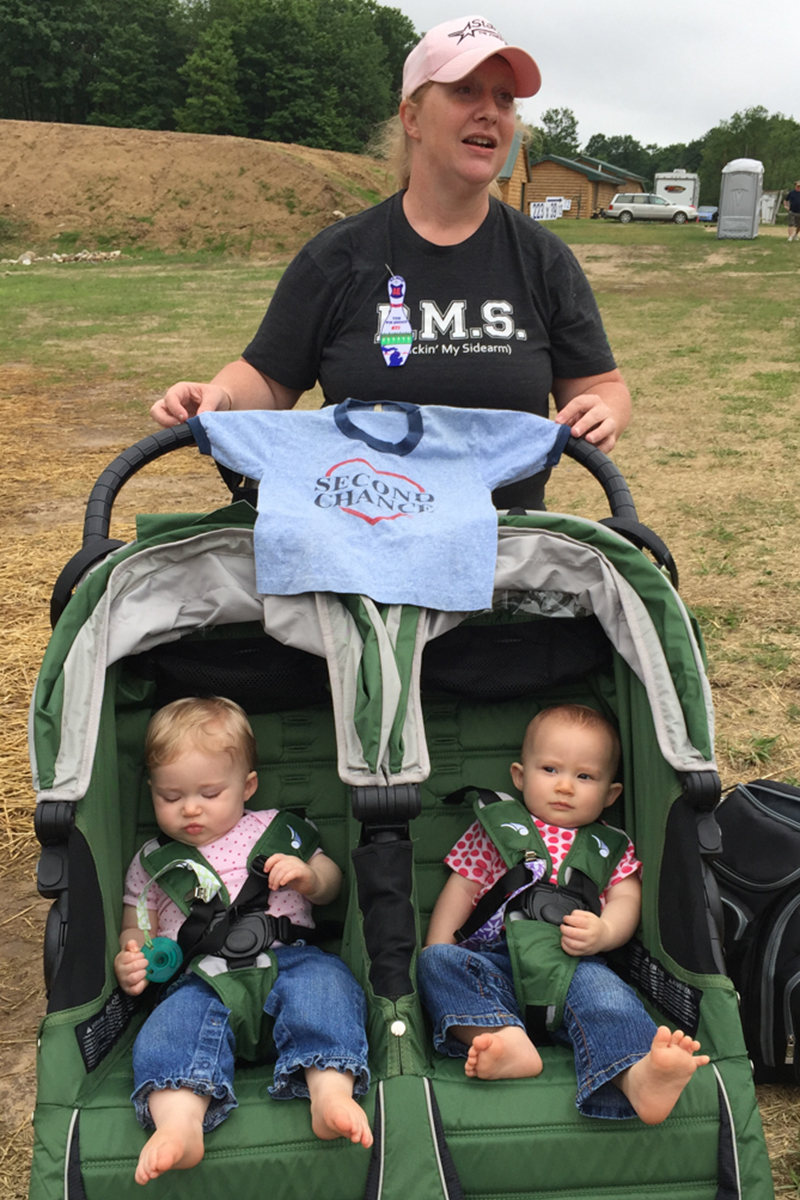 Revolver mavens Denny Reichard, (S&W guy,left) and Jerry Moran (Colt guy, right) talking shop in the pavilion at the shoot.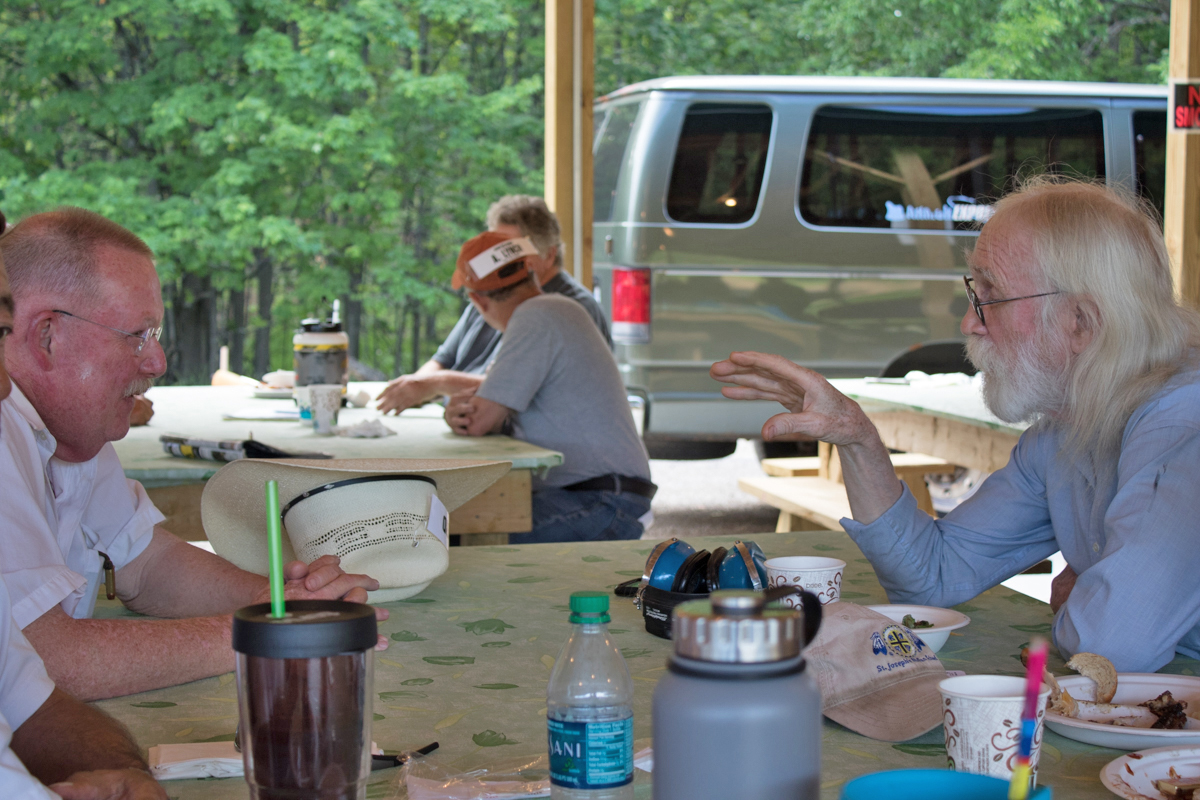 The prize tables were piled deep with guns and other goodies at The Pin Shoot.