FIRST TROLL OF THE SEASON
Darn, I hope this doesn't signal the beginning of a season of them…
For some time now, this space has been fielding comments from a fellow who calls himself "quick joey small," taking to task all who think President Obama might not have the best interests of gun owners at heart.  His challenges have been met by myself and others, and he says he has read the provided links. I don't mind his opinion, I mind his insulting, disingenuous approach.  I explained to him in earlier commentary that while adverse opinions were welcome here, trolling was not. This morning, I found the following waiting for me to moderate on this board (click to make bigger):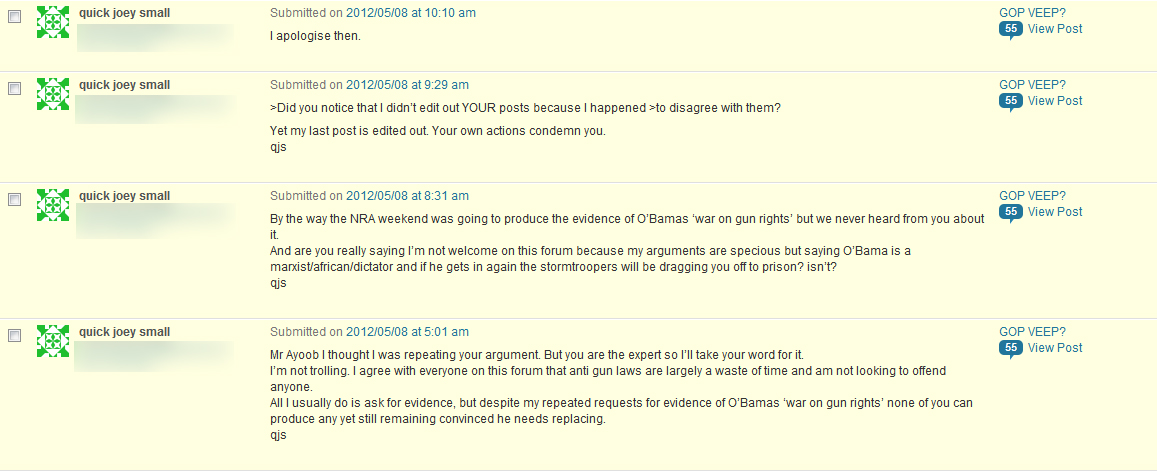 The record will show that over the years I've been doing this blog, I've deleted damn few posts and banned fewer posters than that.
The deleted posts generally involved extreme obscenity, foaming at the mouth racism, threats, or attacks on other posters in the comments section. (I'm fair game here; the blog guests who post are not.)
In the last thirteen months, I've had to ban two posters.  One was a foul-mouthed (expletive deleted) who couldn't accept being told not to do that any more, and degenerated into thinly veiled death threats. He's gone.  Another was a young man who appeared to be emotionally disturbed, and couldn't or wouldn't take the well-intentioned advice given him by me and other posters. He's gone, too.
"quick joey small" said he checked the links others and yours truly provided to answer his questions and comments, but still ignored the information therein.  While I can probably live with willful ignorance, I won't abide outright lies.
"Joey," you call yourself "quick," but you apparently ain't too swift.  You accuse me of deleting your post. That never happened.  Your posts of today are seen here above, bigger than they would have appeared in the commentary section.  Enjoy them. They'll be your last here.
You accuse me of calling our President a Marxist, an African (as opposed to African-American), and a dictator.  You lie.  I never said that, here or anywhere else.
You implied that if I allowed someone to post here that they wanted to shoot the President it would be the same as me saying I wanted to do the same, and I replied in commentary on that post to the effect that I allow YOU to post here, but that doesn't make me an idiot.  (Upon reflection, I may have been wrong on the latter.)
Furthermore, you claim that such statements WERE posted here.  To the best of my knowledge, you're lying about that, too.
In your last post, you apologized. Too little, too late. If I had any reason to believe your apology was sincere, I would have respectfully accepted it…but you presented no such reason.
I am happy to host opposing viewpoints here. I will not abide lying trolls.  You now join the short list of those who are banned from this blog.
Enjoy your disengenous trolling wherever you find a place that will accept it…but that place will no longer be here.