After all the grimness we've recently discussed here, it's time for some good old gun stuff. At one of the Half Price Books stores, I recently picked up a well-thumbed copy of Stoeger's Shooter's Bible from 1955.  '55 was a rich year for newly introduced guns that would become classics of their time.
1955 was the year that the first newsstand gun magazine, Guns, came out. I was seven years old, and in Corner Pharmacy across the street from my dad's jewelry store, it sucked my eye right off the comic book rack.  Not in my wildest dreams would I have thought I'd end up being Handgun Editor of that publication for about 40 years, right up to present times.
When I was a very little boy, the most memorable tome on the bookshelf in my bedroom was a 1947 Shooter's Bible that my father had purchased the year I was born, and I imprinted on the thing like a little duckling on a momma duck.  You have to remember that back then, gun periodicals were annual, not monthly, and there were only two games in town: Gun Digest and Shooter's Bible. Each was part catalog of firearms and accessories then available, and articles from the firearms gurus of the time.
The 1955 edition, the 46th, had articles by many of the greats: Charles Askins, Fred Bear, Pete Kuhlhoff, Jack O'Connor, Warren Page, and more. Askins, the only one of those I ever got to meet and become friends with in later years, did a piece called "Handgun Hotshot In One Easy Lesson," in which the former national pistol champion postulated that "Trigger control is 99% of the art, the other fundamentals shape up the remainder of the 100%."  The decades since taught me that while I wouldn't go as high as 99%, trigger control was indeed The Heart of the Beast for accurate shooting.
Jack O'Connor wrote "The Battery for the African Safari" in which he suggested the .375 Holland & Holland Magnum for someone taking only one rifle for all game including the dangerous stuff, with something bigger preferred for elephant and something on the order of a .30-06 recommended for plains game. It proved to be timeless advice. A little over a quarter of a century thereafter, when I took a .308, a .375, and a .458 on my first African safari all my needs were met, and a year later I found a .375 and a .270 to suffice for my second and last safari there.
When we look at the old gun catalogs, we tend to drool too much over yesteryear's prices. Let's have some perspective. Average income for an American household in 1955 was around $5,000, per the yesiamcheap.com cost of living website. That comes out to $96.15 a week; today, it's reportedly ten times that at least, which rounds off to a little under a thousand a week.
The Winchester section highlighted the 6.5-pound Model 70 Featherweight bolt action hunting rifle, in caliber .308 Winchester, both newly introduced. The Featherweight ran $120.95, well over a week's income for the typical American family in 1955.  If you want an equally accurate bolt-action .308 about as light for hunting today, the Ruger All-American is $489 MSRP, and almost half a pound lighter than the old Winchester Model 70 Featherlight…and, accounting for inflation, a helluva lot cheaper.
Going brand to brand, in 1955 Colt charged $64.60 for what they called their "Government Model .45 Automatic Pistol." Today's direct descendant, the Colt 1991, now carries the MSRP of $799, only slightly over the usual 10:1 ratio of inflation from 1955 to now.  In shotguns, a Remington 870 in the 1955 Gun Bible started at $77.50, while today's Remington 870 Express is an inflation-beating $417 baseline MSRP.
We also have to remember that this catalog with a 1955 title was put together the previous year. Some of the great introductions of 1955 were not listed: the iconic Colt Python revolver, Smith & Wesson's .44 Magnum later known as the Model 29 and their ground-breaking Model 39 9mm semiautomatic, and Remington's Model 740 .30-06 semiautomatic hunting rifle which along with its descendants like the 742, etc. were destined to be hugely popular among sportsmen.
The past was indeed prologue, in many ways.  I am reminded of something my friend and fellow gun writer John Taffin has said more than once: "The Golden Age of Firearms is now!"
A blast from the past.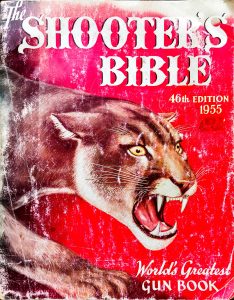 The .308 Winchester cartridge, and the Featherweight version of Winchester's Model 70 rifle, were both new in 1955.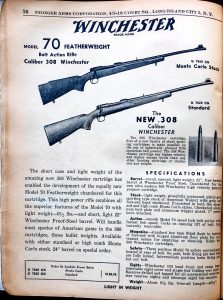 Shooter's Bible hosted some of the best writers of the mid-20th Century.