If you seek a role model for women, a role model who is brilliant and beautiful, feminine and lethal, you need look no farther than Graciela Casillas.  She's the only one to win the title of World Champion Woman in both boxing and karate (bantamweight class). She is also a retired college professor.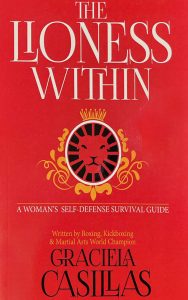 Bare-handed fighting, knife or stick or gun, Graciela is living proof of what women can accomplish in the various worlds of human conflict. She has lectured female executives and professionals on attitude, as well as professional fighters in the ring and countless students who simply wanted to be able to protect themselves. She is a third-level graduate of my own classes, and when I hosted her to teach her curriculum I had her stay a while extra to personally train my daughters, who absolutely loved learning from her.
I've seen this slender woman send 250-pound male body builders reeling with a punch through an airbag, and seen her put a hulking professional football player on the floor in an instant, tapping out like Thumper the Rabbit to make the pain stop. 
I am writing this to strongly suggest you read her excellent book "The Lioness Within: A Woman's Self-Defense Survival Guide." Graciela takes the reader not just into techniques and tactics, but into the psychology, the mind-set of winning a hostile encounter whether the arena is physical or mental. It is available on Kindle or in paperback.
Strongly recommended for every female in your life, this book is a testament to the fact that women don't have to sacrifice grace and femininity to be highly competent in self-defense.