Deer season is upon us. It's a time to not just scout the woods, but to make sure the harvesting tool is ready to do its job. Is your huntin' gun sighted in? If you're using new ammo, you HAVE proven it out, right?
Why are these concepts in the forefront of my mind, you ask? Well, the last weekend in October I competed in the Georgia State IDPA championships using a proven-reliable Wilson Combat .45 pistol, and came in last in Master class, due in large part to loading from a new case of match-grade ammo that had just come in from a reputable commercial reloader. The test loads from the previous batch had worked flawlessly in the gun, but this new lot of ammunition apparently wasn't crimped right. I stopped counting the jams at the ninth one. Not a good thing when your elapsed time is a key determinant to your final finish. "The Last Master" would make a cool title for a kung-fu movie, but trust me, it's NOT where you want to finish in a shooting match.
The first weekend in November, I shot my final major tournament of the year, the South Mountain Regional IDPA Championship which was splendidly run by Bill Barron and his team at the Phoenix (Arizona) Rod & Gun Club. Prior to going, I selected my usual factory ammo out of a case I'd already worked with and knew was perfect. I was shooting Stock Service Revolver division this time, so I grabbed the first five four-inch barrel Smith & Wessons I found in the gun safe and took them to the practice range with the .38 Special +P ammo I knew I'd need to make the required power factor. A sweet, newly-acquired Model 19 grouped tight but way off center, and I didn't have time to sight it in. A Model 15 that had given me First Master at the US East Coast Nationals last summer (beaten with that type of gun only by Craig Buckland, who was a few weeks out from winning the National Championship), didn't seem as spot on now as then. An older Model 15 that had won a Regional for me in '08 was close enough for consideration. A Model 64 that won the Midwest Regionals for me half a decade ago now seemed to be shooting off center. But my Model 686, tuned by Arkansas gunsmith Bob Lloyd, was shooting best of all, and three clicks left on its adjustable sight brought the tight group on the practice range dead center, so that's the one that went into the suitcase.
To make a long story short, the gun and ammo worked perfectly, the bullets went where I aimed them, and I'm sitting here looking at a silvery trophy cup that declares me the Regional Champion in Stock Service Revolver division. Test-shooting and verification pay off! And, let me tell you, "Champion" feels WAY better than "Last."
Moisture in the wood of your deer rifle's stock may have warped it, causing pressure against the barrel that will change point of aim/point of impact coordinates from what they were last year. Something may have bumped your sights or your scope and knocked them out of alignment. Some subtle change in astigmatism in your own eyes may have occurred over time, which will affect your point of aim vis-à-vis point of impact.  Something could have changed at the manufacturing end between the ammo you used last year and the new lot of the SEEMINGLY identical ammo you bought for this year.
The old adage is true: "Prior Planning and Preparation Prevent Piss-Poor Performance."
And, by the way, kudos to Phoenix Rod & Gun Club for a challenging, efficiently-run, and shooter-friendly match.
But, hey, don't take my word for it. I'm sure there are many stories the Backwoods Home blog readers can tell which will reinforce these lessons of knowing what your firearm will do, before you have to do something with it, the outcome of which is important to you. You're all invited to share those experiences here, in "Comments," below.
One stage at South Mountain made you a preacher behind a pulpit, who had to draw, take cover, and return fire on anti-religion zealots who opened fire. Care had to be taken not to hit the targets representing parishioners in the pews. Here S&W 686 tuned by Bob Lloyd clears Galco belt-slide holster from under EOTAC concealment vest.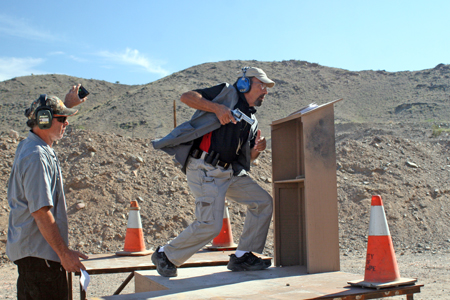 The reward for having your gun & ammo squared away before you need to use them: Bill Barron, right, presents author with Regional Stock Service Revolver Champion cup. He and his crew ran a great match.