GIVE THE GIFT OF THE PERSONALIZED FIREARM
Mankind has probably personalized his weapons since the first Cro-Magnon put his mark on his club. Nothing makes a gift or presentation firearm more of a keepsake than the recipient's name engraved thereon.
And, yes, that can be an expensive custom order. But you can give the memorable gift of personalization a whole lot cheaper than that.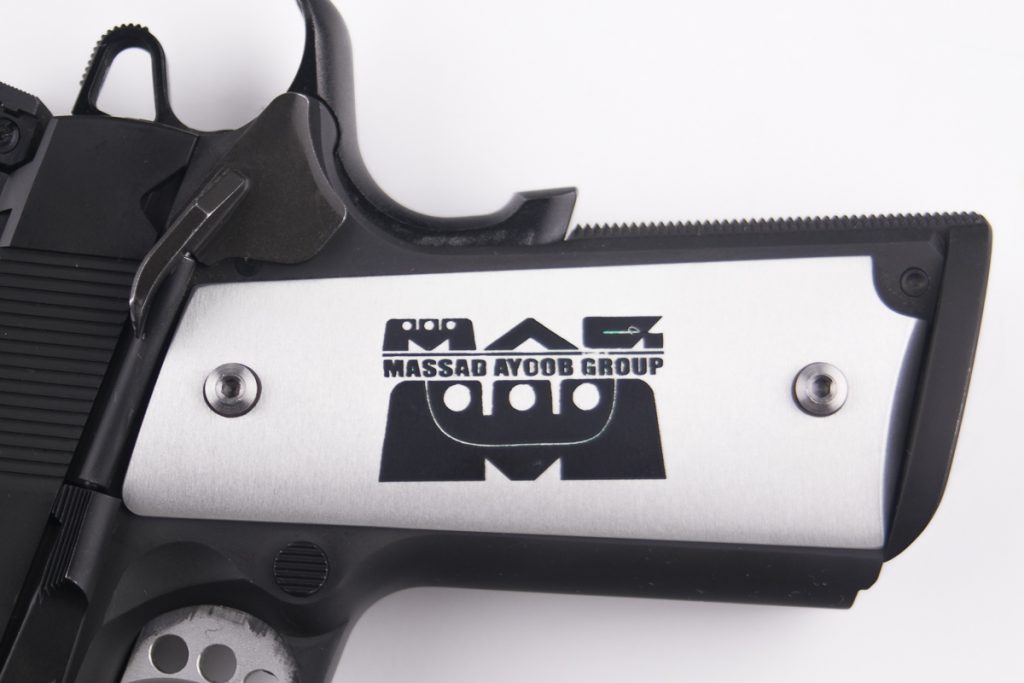 Personalized grips for a handgun, for instance. One my 1911s now proudly mounts a pair engraved thereon-line Aluma-Grips with my school's logo thereupon. They come from a very likable mom-and-pop company called Gun Grips at www.gungrips.net. Go to the website and touch bases, always necessary for custom work, though they have some standard logos such as those for the American military services for 1911s, Beretta 92s, and a whole lot more. They can work in different media, such as faux ivory; that substance in my experience is more for "show" than for "go" and can break with the pounding of constant recoil, so for a gun the recipient is actually going to carry and shoot, I'd strongly recommend their Aluma-Grip option.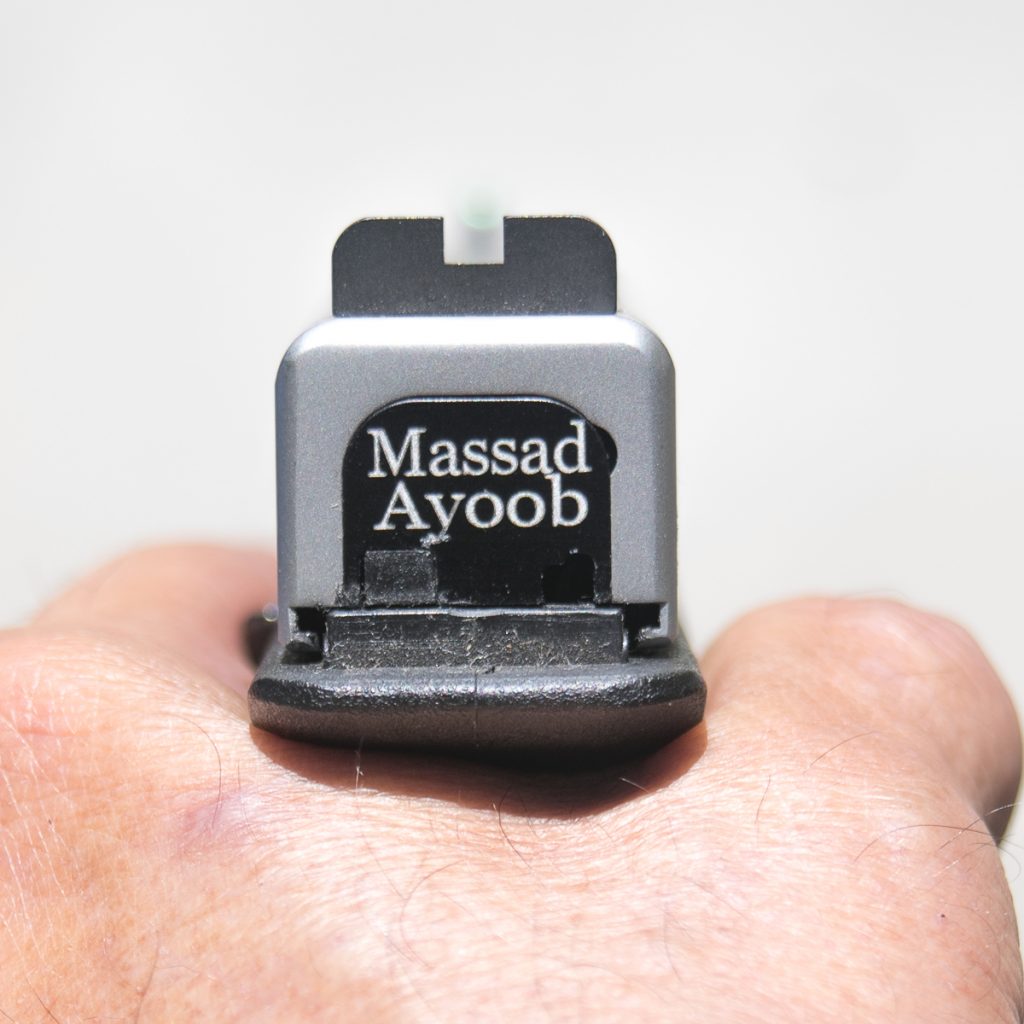 The most popular handgun brand in America today is the Glock line. A whole cottage industry of Glock accessories and customization has arisen around this marque, and one of the most successful is Lone Wolf. They offer all manner of accessories, including their own Timberwolf series of whole Glock-ish pistols with more vertical grips than the original, but staying on topic the Lone Wolf product I'm talking about here is the back plate (properly called Slide Cover Plate) for a Glock slide. Lone Wolf offers them with all sorts of cute images, but you can order them with the name of the person on your gift list.
My significant other, the Evil Princess, is a self-styled Glock Girl and, on a whim, bought inveigled me into buying for her a Glock 17 whose serial number was ACME99.  Well, you know who "Acme" is associated with, so that pistol now wears a backplate slide cover plate with the image of Wile E. Coyote.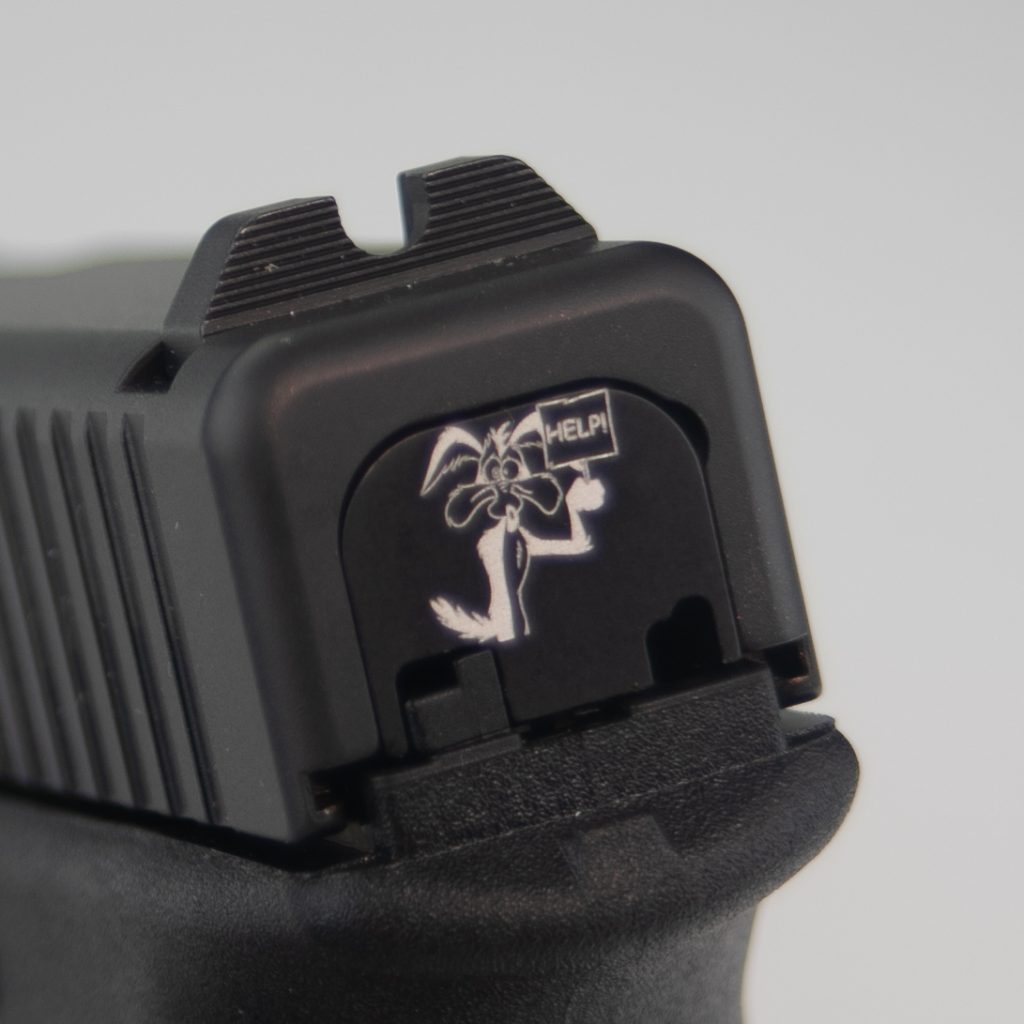 That's one of her "fun guns," and she doesn't keep it among her defensive Glocks. She has seen me through enough trials to know that opposing counsel would say "So, Ms. Defendant, you want this jury to believe you're a responsible gun owner who fired in self-defense, but you were so flippant about killing people that you put a cartoon character on the death weapon?" Any of these sources can put a Punisher skull or something equally stupid on a gun, but if it's for serious business, no one can make a believable argument that the owner's name on the pistol is in any way irresponsible. And if you doubt that such accoutrements can trigger allegations of malicious intent, read this.
Christmas is coming up fast, and I can't guarantee either of the above sources can get you their products in time to put them under the tree, but if you touch bases at their websites they just might be able to do it. And if they can't, well, they are useful resources to have in the future.