Managed to finish beating down that damn bronchitis with a few days in Texas, in some dry heat hovering around three digits. (Thanks for all the get-well wishes, folks. Looks like they worked.)
Texas is one of my favorite states.  Great people, of course, but I just love the way Texans collectively think.  Though I spent some time in San Antonio, I didn't have time to revisit the Alamo, but did get down around Goliad.  I definitely want to budget more time to visit that part of the state when I get back next year.
Outside the beautiful old county courthouse in Victoria, I spotted a deputy wearing a tooled brown leather duty belt and packing an ivory-handled 1911 pistol.  In a world of black plastic service pistols in black plastic holsters, it was a refreshing sight for this old traditionalist. Hell, I was packing a six-shooter, myself.
It was good to see SOME Americans enjoying prosperity. The recent developments in oil shale have been a boon to this part of the Lone Star State.
It is pleasing to see a state that takes pride in its own rich history.  During the drive, I found historical markers every few miles.  Yes, it slowed me down to keep pulling over to read them…but it was worth it.
I'm told that when Texas joined the United States, it did so with a written proviso preserving their right to secede if it didn't work out.  According to one source,the state can afford to; this source says that Harris County (Houston area) would, if autonomous, be the world's fourteenth largest economy.
Hmmm…if the USA keeps going to hell in a handbasket, and Texas secedes, I'll have to talk to their new immigration bureau and see how they feel about folks moving in with dual citizenship…
Historical markers dot the secondary roads…worth stopping for!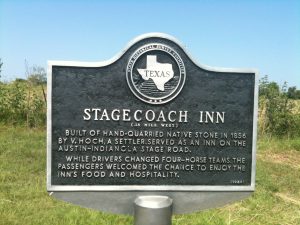 The beautiful old county courthouse in Victoria, TX.