When I was a kid, I heard of "postal matches," where an individual could shoot a prescribed course of fire, send the results in to the NRA, and win a marksmanship medal depending on how high the score was. It struck me as a great idea.
It still does.
IDPA, the International Defensive Pistol Association, now does it one better.  They run a postal match that you can still get in on for this year: there are IDPA affiliated shooting clubs all around the country taking part in this effort, and four figures worth of participants are expected.   Cruising over to the main website at www.idpa.com will get you a cornucopia of information on this exciting and popular shooting sport, including a downloadable rule book.
If you own a semiautomatic pistol or a revolver suitable for home defense, you probably already have a gun that's "within the rules" for competition. There are five divisions, to create a level playing field.  The most popular is Stock Service Pistol (SSP), designed for double action semiautomatic pistols like the American military's Beretta M9, and encompassing the hugely popular Glock, in calibers 9mm Luger and larger.  There is Custom Defense Pistol (CDP) for single action, large caliber semiautomatics such as the classic 1911 .45.  There is Enhanced Service Pistol (ESP) for single actions down to caliber 9mm, such as the Browning High Power or the Springfield XD.  For those who prefer round guns to square ones, we have Stock Service Revolver (SSR) that fire conventional rimmed revolver cartridges caliber .38 Special or larger, and Enhanced Service Revolver (ESR) for the less common .40 caliber, 10mm, or around-since-1917 .45 ACP revolvers, which use "moon clips" for super-fast reloading.  Auto pistols may have barrels no longer than 5", revolvers no longer than 4", and holsters must be practical for daily concealed carry. The downloadable rule book will explain what sort of ammunition you need to make the requisite power factor in each division.
Also in the name of the level playing field, those of similar skill and experience levels compete against their peers. Classifications go from Master down through Expert, Sharpshooter, Marksman, and Novice, as determined by a 90-shot course of fire described on the website and in the rule book, and usually offered at least once a year at participating clubs.  If you haven't shot for classification, you'll be allowed to compete in the Unclassified category, but you'll have to be an IDPA member for your scores to go into competition with the others around the nation and the world shooting this match.
IDPA's Postal Match is a great way to see how you "stack up" against your peers in terms of tactical defensive shooting skills. The four stages are simple and straightforward.  In one, only six shots are fired, but you have to be moving rearward as you shoot and must perform a reload, having started with only two rounds in the gun, as if you were in a second confrontation after having to open fire once before. In two more, you'll have to take cover and engage multiple targets from either side of a vertical barricade, again reloading. There will be another drill where, without moving from a seated position, you have to access the weapon and engage multiple simulated threats, shooting past a simulated innocent bystander, and do it once two-handed, once strong hand only, and once with only your non-dominant hand.
What I most like about IDPA's format is that it's done at the ranges of reputable, affiliated clubs. That does much to eliminate the possibility of some lone egotist faking his scores and mailing them in. All shooting is done under the supervision of certified range safety officers, and THEY tally and send in the scores.  I'd like to see something like this available for the ordinary varmint guns, deer rifles, and shotguns of the typical "backwoods home," too.
Check out the links, and if you can, "give it a shot" so to speak. I just shot the 2009 Postal at the First Coast IDPA club, a great bunch of folks in Jacksonville, Florida. Results will be posted at www.idpa.com around November or so. Two 50-round boxes of ammo will get you through it.
And that fits neatly with my motto, "If you're gonna go postal, make sure you have enough appointed rounds."
Mas shoots Stage 4 with S&W Model 15 .38 (Stock Service Revolver).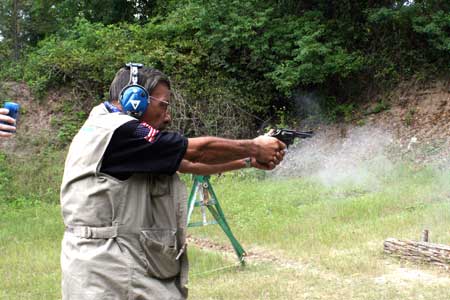 Florida State Champion Gail Pepin uses 9mm Glock 34 (Stock Service Pistol) shoots Stage 2 from one side of the barricade…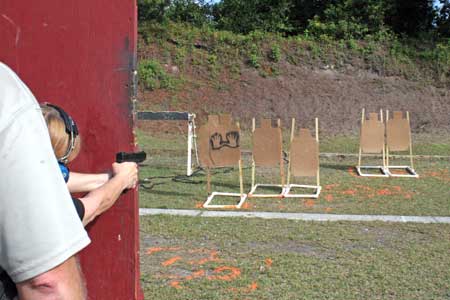 …and the other, all with the timer running. She finished the match only one point down from perfect score. Arrow shows ejected casing.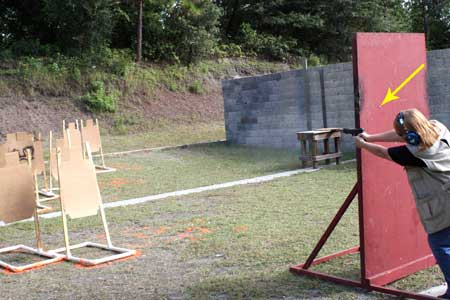 New shooter Paul on Stage 3 with borrowed Glock 17. Arrows show spent casing and first shot, which struck inside the down-zero zone, as dust puffs behind the target where the 9mm bullet comes to rest. He is shooting while moving backward to cover, per course requirement.