We're in an election year, which means there's a good chance that before the year is out there'll be a run on ammunition. We don't know yet who the Democrat nominee will be, but we know every damn one of them is running on an anti-gun platform. It's not a bad time to stock up on ammo. Prices are the best they've been for a while. Don't expect that to last forever.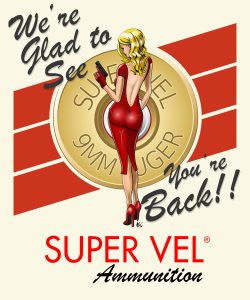 Super Vel ammo is running a big customer-direct sale. A bit of background. Back in the Sixties, Lee Jurras changed the face of the handgun ammo industry when he came out with his Super Vel brand ammunition. Instead of round-nose lead or full metal jacket, you could finally buy jacketed or semi-jacketed hollow points using lighter, faster bullets that expanded when they hit flesh. Super Vel brought the 9mm Luger and .38 Special rounds up off their knees and made them viable self-defense cartridges. In a second generation of ownership, by H&H Cartridge, Super Vel sponsored me at the Second Chance Pin Shoot, where I won a bunch of guns shooting their high speed, wide mouth 190 grain .45 hollow point that just reefed the heavy bowling pin targets three feet back off the table. That was something like forty years ago. I shot some critters with Super Vel, and it was devastating.
Time went on. The big ammo companies copied Super Vel's design, and the smaller firm just couldn't compete. Well, a few years ago, shortly before Lee Jurras passed, my old friend Cameron Hopkins thought it would be a good idea to resurrect the brand, and he got Lee's permission to do so.  Cameron is a good dude, an honest man, and knows his ammunition.  The current Super Vel includes about the hottest load out there for snub-nose .38 Specials, the Super Snub, which sends a 90-grain hollow point out of a two-inch barrel at a hellacious velocity of more than 1300 feet per second. In addition to old school hollow points, Super Vel also has Barnes-type all-copper hollow points, which work well against barriers while still expanding reliably in flesh. Their copper HP .380 load looks as if it will both expand and penetrate to FBI-approved levels for service pistol ammo when fired from, say, a Walther PP.  They've currently got a big sale going, 35% off on that snubby load and 20% or more off on most anything else, factory direct.  Check it out at supervelammunition.com.