One of the joys of my work is that it allows me to meet some of the best people in the world: cops and shooter folk.  Both tend to be far above average in responsibility, realistic outlook, and caring about others.
Last week found me in Forsyth, Georgia, spending half a day lecturing to 150 members of the Georgia Law Enforcement Firearms Instructors Association.  Great bunch of people. They understand the maxim of the great law enforcement firearms instructor Charlie Smith, a top trainer for FBI before he became the founding director of the Smith & Wesson Academy: "We are the teachers of staying alive." God bless those who dedicate themselves to the safety of the public, AND the safety of their own kind.
Then it was on to Prospect Hill, North Carolina, where Craig Buckland kicked butt including mine, winning the Stock Service Revolver Champion title and bumping me down into second place in that phase of the East Coast United States Championships.  Craig is the kind of person  you want to be the champion of the game you play: fair as a match director, fair as a range officer, and an outstanding sportsman committed to both individual excellence and the game itself. I shot on the first day, with about forty competitors and about twenty staff. Not a bozo in the bunch.  Even if I couldn't shoot anymore, I think I'd still go to matches just for the company of people like this.
The week finished for me on Saturday, when I had the privilege of being the keynote speaker at a Friends of NRA Banquet in Orlando, Florida. The event drew some 380 National Rifle Association members and raised over $25,000 for the organization that is the strongest advocate of gun owners' civil rights on Capitol Hill.  The economy being what it is, a lot of the items they auctioned off went cheap. Please do support the next Friends of NRA bash in your neck of the woods. You get to give honest support to a righteous cause, meet great people in your area with whom you might otherwise not have connected, and maybe even get a bargain purchase at the same time.
In a week, I'd had the chance to interact with more than half a thousand of the kind of people who get righteous things done, and make the world go 'round. Damn…I love my work.
I'd be remiss in a discussion of good people here on a Backwoods Home blog if I failed to mention that our own Jackie Clay is in the hospital as I write this.  She took a bad fall from a roof she was repairing, and suffered a cracked sternum and some serious spinal injuries. Long our most popular writer at Backwoods Home magazine, Jackie has made a career of unstintingly giving of her time to share her expertise as perhaps the leading authority on home canning and related topics, spreading the lessons of self-reliant living.  It would be great if you could send her a get well card.
Address is Jackie Clay, c/o Backwoods Home Magazine, PO Box 712, Gold Beach, OR 97444.
Or, you can leave an encouraging comment at her blog.
Best to ya, Jackie!
With Power Point going in the background, Mas gets to interact with about 150 Georgia law enforcement firearms instructors.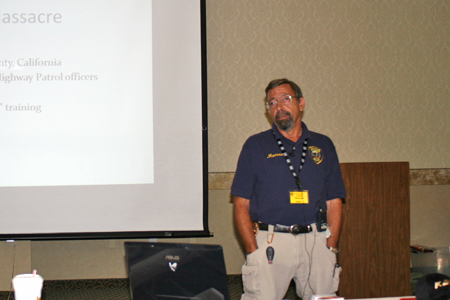 Police officer, shooter, on-duty gunfight survivor and all around good guy Keith Garner shoots a non-dominant-hand-only stage at the East Coast US Championships. Arrow points to spent casing from the Glock he has just fired.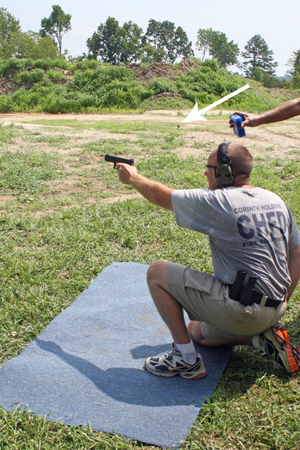 On the podium, addressing 380 Friends of the NRA. It's cool to meet good people in large quantities. 🙂