So, here I am at the annual Gun Rights Policy Conference, held behind enemy lines – "in the belly of the beast," as one of our brothers here on the ground in San Francisco puts it – among several hundred activists for gun owners' civil rights.  The locale is actually appropriate. The Second Amendment Foundation – co-hosting the Conference with its sister organization, the Citizens Committee for the Right to Keep and Bear Arms – single-handedly defeated San Francisco's attempt to ban private citizens' ownership of handguns there, many years ago.
It's the 25th such conference, and I've attended many of them, always feeling the recharging of the batteries that comes with being surrounded by good people from all walks of life who have responsibly applied critical thinking to a situation and come to the same logical conclusion.
At past GRPCs, we've been swamped with national and local media. In SF, they're starkly absent. Almost a news blackout…so much for "fair and balanced."
Absent too, for the first time, is any official NRA presence. Speculation is that the organization is embarrassed about a piece in one of their magazines in which NRA reportedly takes sole credit for the huge SCOTUS victory in McDonald, et. al. v. City of Chicago. It's well known that Second Amendment Foundation initiated that lawsuit, with NRA jumping in much later. I've been on the road since mid-August and haven't seen the issue in question, but if that's true I can only wonder, "What were they thinking?" Still, SAF and NRA are natural allies, and I hope that faux pas soon recedes into history. We gun owners need both entities working hand in hand.
We got to hear details from Alan Gura, the brilliant young attorney who did that case, and is doing many more to follow up, all over the country.
The Conference continues today, with much good exchange between successful grassroots groups, from CalGuns Foundation and California Rifle & Pistol Association to the Gun Owners Action League (GOAL) in Massachusetts. Look for more in this space after things quiet down and I can get some keyboard time.
Alan Gura explains the backstory of the McDonald victory.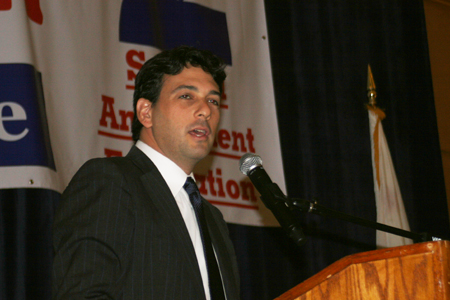 From left: Dave Workman and Mas Ayoob from the SAF board, and Tom Gresham of the CCRKBA board, illustrate the media's approach to the Gun Rights Policy Conference.