GUN RIGHTS POLICY CONFERENCE 2011, DAY TWO
Sunday's presentations began with a panel on media bias. Brian Patrick, who teaches communications at the University of Toledo, noted that the concealed carry movement has made more friends for gun owners than any other facet of the firearms world. Malia Zimmerman, editor of the Hawaii Reporter, reminded us, "We're not all the devil." She suggests Googling any reporter who wants to interview you to see if they've revealed a bias in previous stories. Don Irvine, president of Accuracy In Media, cited a Gallup poll this week which determined that 55% of Americans don't trust the media. He told of one newspaper story on Florida passing its Stand Your Ground law, which ran under the headline, "Lawless Floridians Shoot First."
David Hardy, who received the Scholar of the Year award from the host organization, treated us to a legal eagle's view of the undercurrents in the Supreme Court's thinking in the odious Dred Scott decision of 1857, and the ambiguous opinion in 1939's Miller decision. David Kopel, who told me he's finishing up the first legal textbook on Second Amendment history, discussed the fact that the 2008 Heller decision hinged in part on what guns SCOTUS felt were protected by the Second Amendment. His reading was that fully automatic firearms didn't make the cut, but the AR15-type rifles, being commonly owned by American citizens, did.
Doug Ritter of kniferights.org explained why anti-knife legislation, notably the current New York City interpretation that almost any folding pocketknife can be interpreted there as an illegal "gravity knife," is "A back door to gun control." His organization has been instrumental in creating positive legislation protecting knife owners and users, in states such as New Hampshire.
Nik Clark of Wisconsin Carry, founded in November 2009, told of his state's hard journey from Illinois-like helplessness to achieving the shall-issue carry law that will go into effect this coming November 1. Some in the gun rights movement were disappointed that Wisconsin didn't undergo a complete transformation from no concealed carry to permitless carry, and Clark observed wisely, "We're talking saving lives. Going for Constitutional Carry could have taken another ten years."
Paula Bratich, Colleen Lawson, Genie Jennings, and Valinda Rowe gave stirring commentary as to the power of women to influence legislators and public opinion on "right to self-defense" issues.  From "Women and Guns" magazine to the group Second Amendment Sisters, female advocacy for the right to armed protection of self and others has greatly strengthened our cause.
My two blog entries only touch the surface of a weekend of networking with the best and the brightest in the gun owners' civil rights movement. Charles Heller, successor to the late, great Aaron Zelman as head of Jews for Preservation of Firearms Ownership and a co-founder of the Arizona Citizens Defense League, has recorded them all.  Stay tuned, and when I know where and when you can download them, I'll post the link here.
David Hardy, who has fought for our rights for decades, received the scholar of the year award.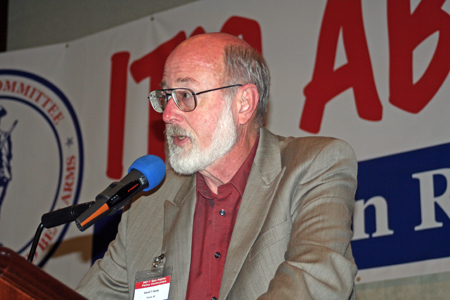 From left: Valinda Rowe, spokesperson for Illinois Carry; Genie Jennings of Women & Guns magazine; Colleen Lawson, whom you met in this blog last year; and Dr. Paula Bratich, Illinois Coordinator of Second Amendment Sisters.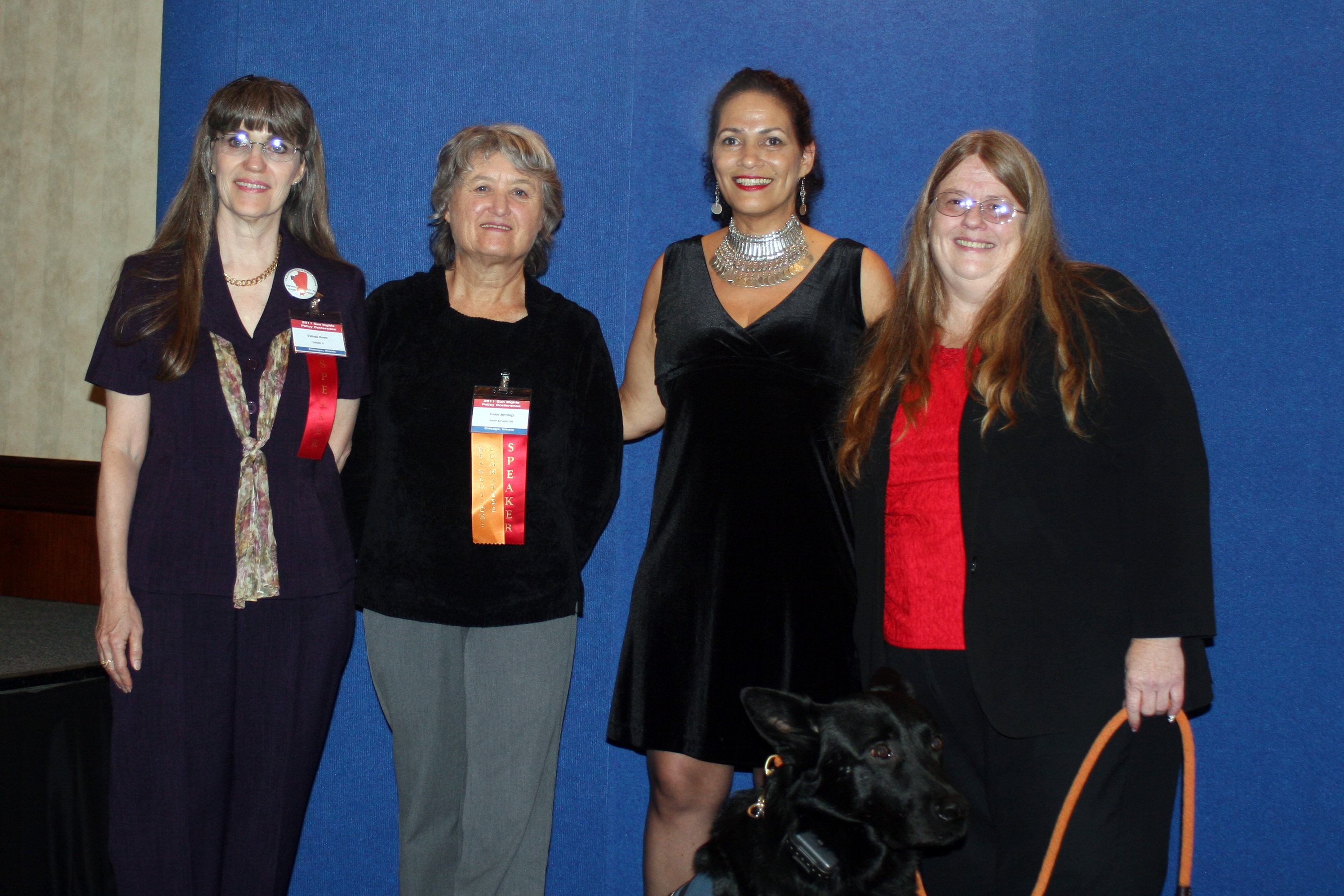 Alan Gura, left, the hero of the Heller and McDonald cases, receives an AR-15 from Armalite president Mark Westrom.  Gura quipped, "I wonder what the other side gets for awards?"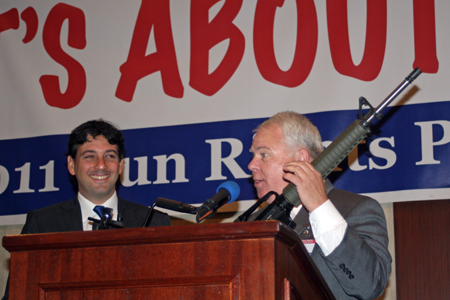 Charles Heller, the new leader of Jews for Preservation of Firearms Ownership.