GUN RIGHTS POLICY CONFERENCE, DAY ONE
The theme of the 2011 Gun Rights Policy Conference sponsored by the Second Amendment Foundation and the Citizens Committee for the Right to Keep and Bear Arms kicked off today, with several hundred gun owners' civil rights activists from all over the nation in attendance.
Alan Gura, who won the great Supreme Court decisions in Heller and McDonald has more very important cases in the works, and treated the attendees to a briefing on all of the above. Professor Adam Winkler, author of the controversial new book on the firearms control debate, "Gun Fight," noted that banning guns would in his opinion increase criminal activity and do little good. "I hate people telling me, 'we have to get rid of all the guns,'" he said. "They don't understand the lessons of history."
David Codrea and old friend Dave Workman are the two bloggers who seem to have done more digging into the ATF's "Fast and Furious" debacle than anyone else, and both were there to put forth details on something that, in a mass media less protective of the current White House occupant, would have been bigger than Watergate. It was bloggers, said Codrea, who outed the whole ugly matter, and he emphasized, "This is not a partisan issue. This is a basic issue of rule of law."
Chicago was the scene of this year's event: symbolically, "enemy territory," and the last state in the union to have zero provision for a law-abiding citizen to carry a handgun in public. They came close in the past year, though, and Rich Pearson and the Illinois State Rifle Association are still trying valiantly. "It's the Chicago stranglehold," says Rich.
At this writing, says Gene Hoffman of CalGuns, there are separate bills on California Governor Jerry Brown's desk to be signed, one banning open carry of unloaded handguns but another that should considerably ease the strictness with which concealed carry permits are administrated under the current system there.  Jeff Nass of Wisconsin Concealed Carry, one of my Level IV graduates I'm proud to say, told of the great victory in his state some months ago, proceeding from no carry at all to shall-issue permitting, which will take effect November 1.
Jim Irvine, of Ohio's Buckeye Firearms Association, thanked Alan Gottlieb and his Second Amendment Foundation crew for the GRPC, noting that the Federal Flight Deck Officer program that armed commercial pilots was born at the Gun Rights Policy Conference ten years ago.
The dreaded UN treaty was thoroughly discussed. It turns out that the Arms Trade Treaty draft does not yet exist. D. Allen Youngman, executive director of the Defense Small Arms Advisory Council, commented, "No congressman or senator ever got elected or reelected by doing favors for the UN, and that's not going to change."
There was much more, of course, but that's all there's room for now.
The event continues tomorrow, a renewal of the spirit and a recharging of the batteries for those of us who have been in this fight for our entire adult lives.
Flanked by co-plaintiffs David and Colleen Lawson, lead named plaintiff Otis McDonald accepts his award for the civil rights triumph of McDonald, et. al. v. City of Chicago.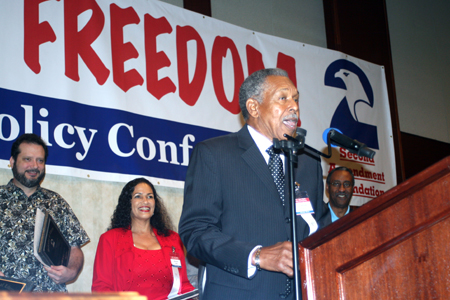 Jim Irvine of Buckeye Firearms Association.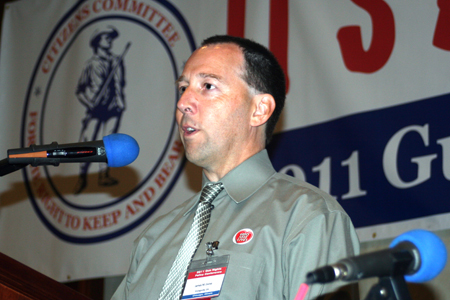 David Codrea, a leader in the exposure of the "Fast and Furious" scandal.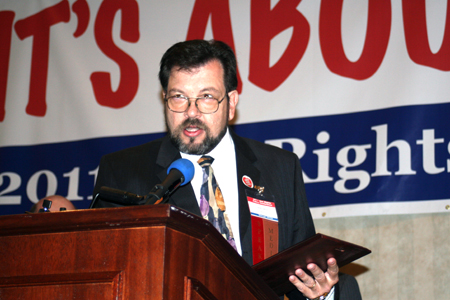 The panel on Personal Defense and the Justice System. From left: Chris Bird, Kathy Jackson, Mas.