The Jacksonville (FL) Times-Union newspaper got itself splashed all over the Internet recently with a front-page story about panic-buying of guns after the election. The story itself was old news: the heavy buying had started before the election, ramped up to epic proportions as soon as the results were in, and continues unabated as I write this. Publishing the story on 11/23/08, the Jacksonville paper was behind its usual fast track in gathering news that is actually new. What caught the nation's attention was one individual quoted in newsman Charlie Patton's story:
"In a comment bound to infuriate some gun owners, Mikhail Muhammad, state and Jacksonville chairman of the New Black Panther Party for Self-Defense, said the increasing gun sales were a reaction by 'the radical element in the white community.' 'We call it white supremacy anxiety disorder,' Muhammad said."
It may have infuriated "some gun owners," but it caused this one to laugh.
I'm of Syrian descent on my paternal side, and Scotch-Irish on the maternal. "A mutt," as Barack Obama recently called himself, like so many of us. When my eldest was ten, I took her with me on safari in South Africa, in the time of apartheid. It gave her a new appreciation of American freedom, a new understanding of her mom and dad telling her what it was like to grow up when there was segregation in parts of our own country. And an understanding of what it was like to be the ones discriminated against, because under the three-tiered system of White/Colored/Black that was apartheid, the kid and I were "Colored."
One thing all of us can be thankful about as we review the results of November 4 is that this country finally elected an African-American as its President, and did so thanks to a huge percentage of the Caucasian vote. It will go far – though how far, we don't know yet – to exorcise the demons of racism that have haunted our nation's history for so long.
Hell, it's no secret to anyone who reads Backwoods Home magazine or this blog that the candidate I really wanted was African-American. Unfortunately, Condoleeza Rice was apparently too fed up with thankless jobs to run for the one that would have put her in the Oval Office.
I'm feeling an urge to phone the Black Panther HQ in Jacksonville and talk to Mikhail Muhammad. If it's about "white supremacy anxiety disorder," I'd like to hear his take on why so many African-Americans are buying "assault rifles" and "high capacity" magazines right now. I'd like to ask him why the website www.newblackpantherjax.com says in its "10-Point Platform," "ARMS IN THE HANDS OF THE PEOPLE!" (Point 2) and "The Second Amendment of white America's Constitution gives a right to bear arms" (Point 7). Hell, I might even ask him if he knew that Martin Luther King was a gun owner. He was also a Republican.
Let's consider the principle of Occam's Razor. Often, the simplest explanation is the correct explanation.
Ya think it just might be that all Americans of every color are desperately buying certain guns because a President has been elected, and a Party given great power, who made it clear that they don't want those American citizens to have access to those guns anymore?
The front page story in question.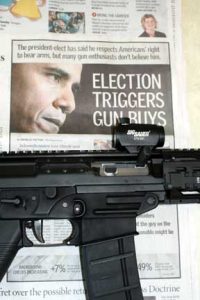 Racial elements in the last Presidential race were more layered than they looked.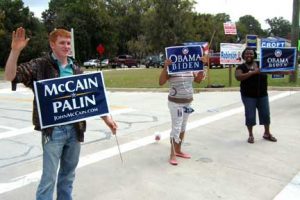 Black and white alike have been buying guns in the current "run." Scene is Trail Boss Gun Shop in Sierra Vista, AZ.