"GUNS FOR PRIVILEGED WE, NOT PEASANT THEE"
The Evil Princess and I took a pleasant spring day walk from the NRA meeting at the convention center in Indianapolis to the Veterans Park, where the Bloomberg-financed Everytown crew was holding forth.  How ironic that they would speak for diminution of gun owners' civil rights in the shadow of a monument to those who died fighting for those rights…
We couldn't help but notice the guys straight out of central casting, burly fellas with black suits, Oakley style black glasses, and most with obligatory shaven heads.  One confirmed to me that they were "private security," and "three or four" in number.  Didn't look quite like the 300 protesters they claimed.  Photos and commentary can be found at Gun Free Zone.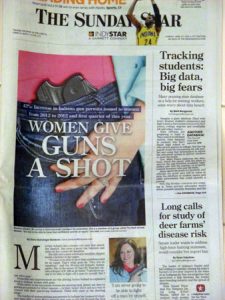 Reportedly, several of those folks had to be bused in, courtesy of the Bloomberg money.  Meanwhile, some 18,000 women came on their own to the NRA meeting, according to the Indianapolis Star, which seems to be giving fair and balanced coverage.
The whole anti-gun group in the park wouldn't have filled one aisle in the nine acres of gun displays at the NRA meeting.  Yet they claim to represent the majority.  Clearly, New York City chutzpah was imported to Hoosier country along with the New York City dollars.
Editorial cartoon, Indianapolis Star, last Friday