GUNS, GEEZERS, AND GOOD STUFF TO REMEMBER
So, here I am in my eighth decade.  (Yeah, OK, 70 years old…but "eighth decade" sounds more pitiful somehow, and will hopefully make women pity me, and console me more than they do…)
Just finished my last class of my seventh decade, in Idaho hosted by Andy Kemp and Bob Houzenga of MTG (Midwest Training Group, midwesttraininggroup.net) and Bob Smith of SAFE (Security Awareness and Firearms Training in Fernan, ID).  It was 40 hours of "fun in the sun," and lots of classroom time in our MAG-40 Armed Citizens Rules of Engagement course.
For a change, yours truly wasn't the oldest person there.  Lots of retirees on board.  We are in a time when the anti-gunners are turning to age limits. No rifles or shotguns for 18- to 21-year-olds, they demand, and they're hinting at taking firearms away from old folks so they don't suddenly go homicidally senile and kill everyone around them.
Well, guess what? The old farts did pretty darn well.
We had over 20% female attendance, including more than a couple of grandmothers.  Top shot among those ladies was a willowy 72-year-old who not only outshot all the other women including the more "buff and tuff" ones, but most of the men present: her 295 out of 300 put her solidly in the top five of the couple dozen students. She did it with a full-size Smith & Wesson M&P 9mm "police service pistol" too, not some stereotypical "cute little ladies' gun."  With 28 people shooting the sixty-shot qualification course including the five staff members in a "pace-setter" demonstration, the single highest score was fired by a gray-whiskered old goat with a compact SIG 9mm.  "Most Improved Shooter," by majority vote of the training staff, went to a silver-haired senior citizen who was running what may have been the toughest gun to shoot on the firing line that day: a little Ruger LC9 9mm.  That's a short barrel pistol weighing barely over a pound fully loaded, but which has a double-action-only trigger pull that requires several pounds of pressure per shot.  He finished with a 95% score.
Lessons?
Beware of old folks. They've been around enough to learn to listen to the lessons, follow shared wisdom acquired long and hard by others, and achieve their goals.
Remember the old cliché: "The Indian is more important than the arrow."
Remember too something the old fart writing this has been saying for decades: "Shooting performance ain't about the gun so much as it's about the shooter, and it ain't even about the shooter as much as it's about consistent application of proven technique."
Thank you, brother and sister geezers, for easing – and validating—my transition into that eighth decade!
There was lots of gray hair in this particular class.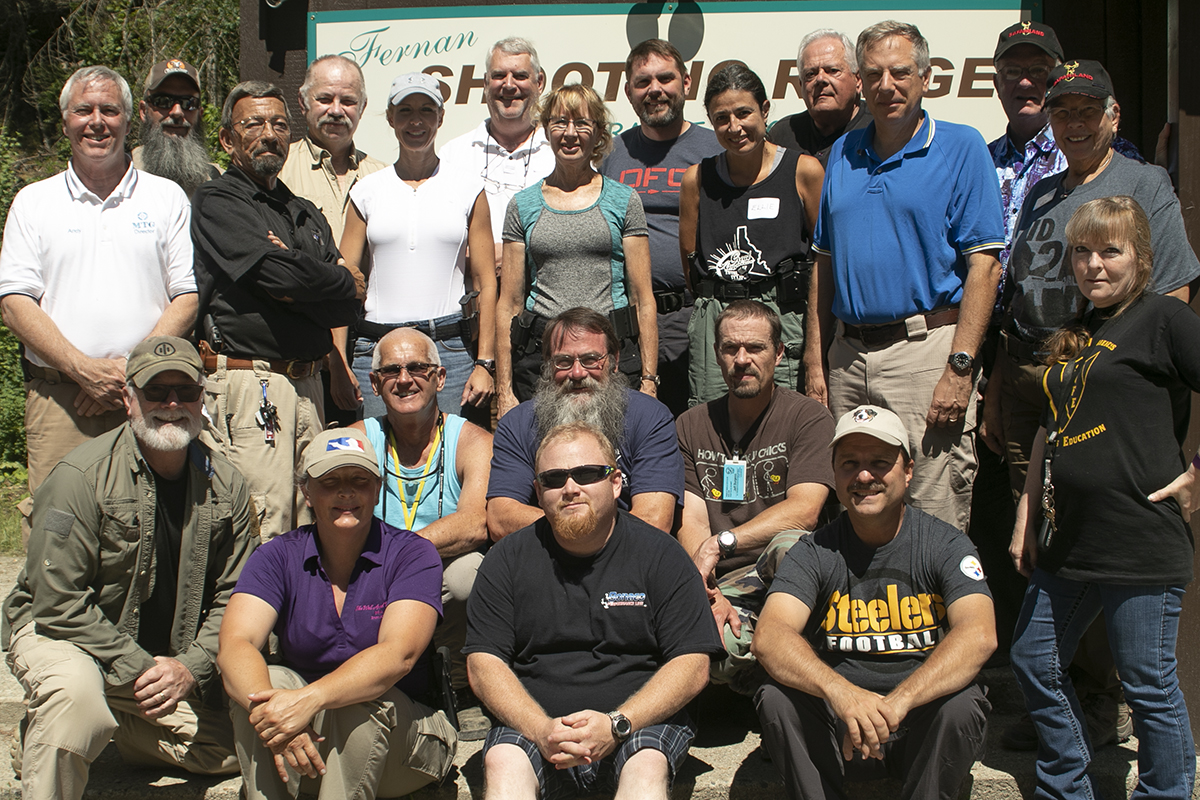 Mas gives Most Improved Shooter award, lead instructor's target autographed by staff, to a senior citizen who did great with a gun that's not the easiest to shoot.