Well, my kid told me that since my significant other's birthday was coming up, I should take her somewhere special.
So, I took her to Paris on her birthday.
Paris, Tennessee, that is, where Terry Riley and his crew at the Henry County Gun Club in neighboring Puryear were running the Kentucky/Tennessee Regional IDPA Championships. For a self-described "shooter-chick," it was the right birthday present.
We got to meet a great bunch of folks. That's par for the course at shooting matches. The range officers were safe and fair, always giving the contestant the benefit of the doubt on scoring. The format was "shotgun start," which means that instead of being assigned to squads, the shooters fan out and shoot at whatever firing bay they want, the most logical way to herd cats. There were twelve stages of six to eighteen rounds, and starting at 8 AM, we were done by a quarter to noon…the fastest either of us can remember getting that much shooting done at a major match. There was plenty of time to chat with new friends and old, and even cruise into town to enjoy some classic old-time, small-town Southern architecture and visit a couple of antique shops, before the hog roast that accompanied the relaxed awards ceremony.
Neither of us won anything, but these days, we go to matches more for the camaraderie than for the trophies. We had driven there from Tulsa and gotten in too late for a good night's sleep, and the Evil Princess was a little off her game; on my end, I was third most accurate shooter (congrats to Bob Briggs, THE most accurate shooter!), but I was still too slow by far. (Yes, as a matter of fact, I DID have some Starbucks at the match, but it just kept me awake enough to realize how slow I have become.)
We had caught the match on the fly, only realizing two days before it that it was there and  our route. (Evil Princess found it on the net: I think her motto is becoming, "iPhone, iPod, iPad, therefore I am.") The cool thing about IDPA shooting (www.idpa.com) is that you don't have to bring special competition gear: it's designed to shoot with the guns and garb and holsters those of us who carry are already wearing. There are some shooting disciplines in which the event is something of a costume party; IDPA, on the other hand, is a "come as you are party."
As we drove away from the serendipitous meeting with lots of good people on our way home from a seven-week working tour on the road, I was grumbling about my performance. The Evil Princess patted me on the arm.  "Don't worry, dear," she said…
"'We'll always have Paris.'"
Our hosts made the shooting stages challenging.  The two close cardboard silhouettes having been dispatched, shooter swings onto the steel Pepper Popper…
…and knocks it down with a 9mm bullet from her Springfield Armory XD(m).  This trips the wire that causes third cardboard target to spring up (center)…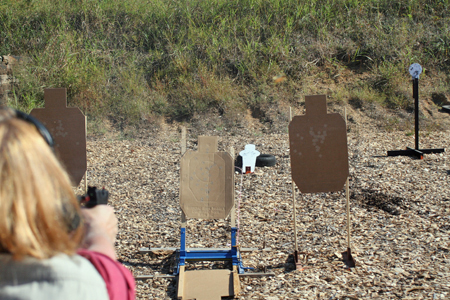 …and she's able to nail it (see dust puffs still in air behind target) in the instant before no-shoot target (note stenciled empty hands) springs up in front of it.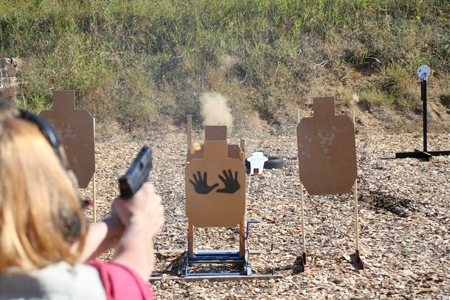 Scorekeepers work diligently behind the scenes to tabulate several hundred scoresheets. Thank you, Ladies!!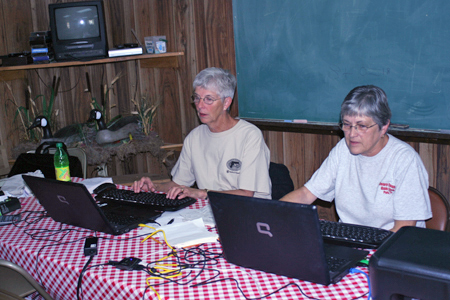 Whole roast hog was a welcome guest at the awards ceremony.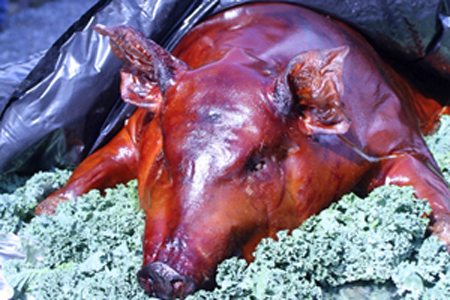 Terry Riley and his team put on a wonderful, efficient match. Here Terry, left, presents awards to Bob Briggs, right, champion of the Enhanced Service Revolver division and overall most accurate shooter.