HIGH RISK, HIGH LIABILITY
This week I'm at the High Liability Instructors Conference hosted by the Florida Public Safety Institute. As the very theme underscores, the emergency services in America – fire, police, and ambulance – deal in the coin of human life. When lives are on the line, the civil liability is high.  So is the risk. The firefighter who runs into a burning building to save a child, the cop who races toward the sound of the guns to stop a mass murderer, and the paramedic who resuscitates a bleeding AIDS patient with open sores are all risking their own lives to save someone else's. Hopefully, they succeed. Sometimes, inevitably, they don't. If someone is hurt or killed, in this litigious society, lawsuits get filed, even if the harm or the death was not the fault of the official responder. It's a classic case of "damned if you do, damned if you don't."
Throughout the massive, beautiful campus of FPSI, you can hear the screech of tires and the crash of gunfire. It sounds as if an action movie is being filmed.  And, truth to tell, some of this is fun.  Chasing "bad guys" and ramming them off the training track with a PIT maneuver in a patrol car especially reinforced to take the repeated impacts, or going through a curve in the Skid Car – a vehicle fitted with a $45,000 apparatus that allows the instructor to cause it to lose traction and skid, and see if the driver can bring it back under control – is fun.  Disney World could sell this experience for a hundred times the price of an E-ticket ride. But these instructors are here on business, all 265 or so of them, and the Institute is charging them only a hundred bucks apiece for 40 hours. But the knowledge they'll bring back to their emergency service agencies is priceless. It will save untold lives in the future.
We are surrounded by reminders of the danger these people and their in-service students face every day at work. The wreath solemnly laid in the opening ceremony, to commemorate those who died in the line of duty. The Troopers' Memorial which we pass each day on the way to classes.
We're getting state of the art material from top instructors from around the country. But it's also a recharging of the batteries, a renewed commitment to the jobs we all do. And it's always a joy to be surrounded by people who accept high risk and high liability alike, in return for the high satisfaction of saving human lives and providing a sense of safety and peace of mind to others.
Florida Highway Patrol cars set up for the repeated collisions of PIT Maneuver training.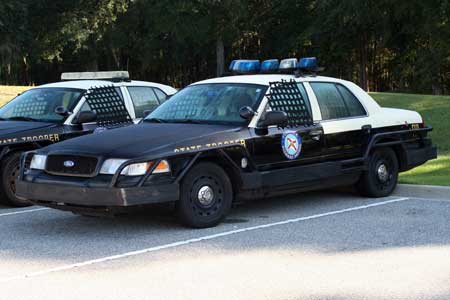 The Troopers' Memorial reflects the many generations and both genders of FHP who have sacrificed their lives in the name of public safety. Note the older style uniform on right, with service revolver in crossdraw holster.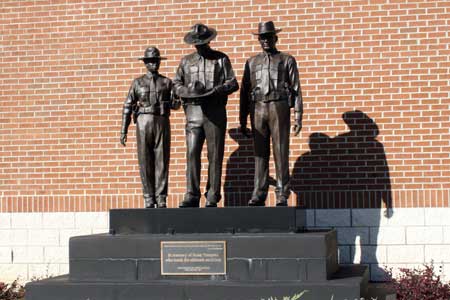 The helicopter on the tower, located on a live-fire range, allows rappelling and assorted other SWAT rescue maneuvers.