HISTORIC MOMENT WITH AMERICAN GUNS
I've recently been reading "Churchill's Ministry of Ungentlemanly Warfare" by Giles Milton, the story of the brain trust the British prime minister put together to develop improved weapons for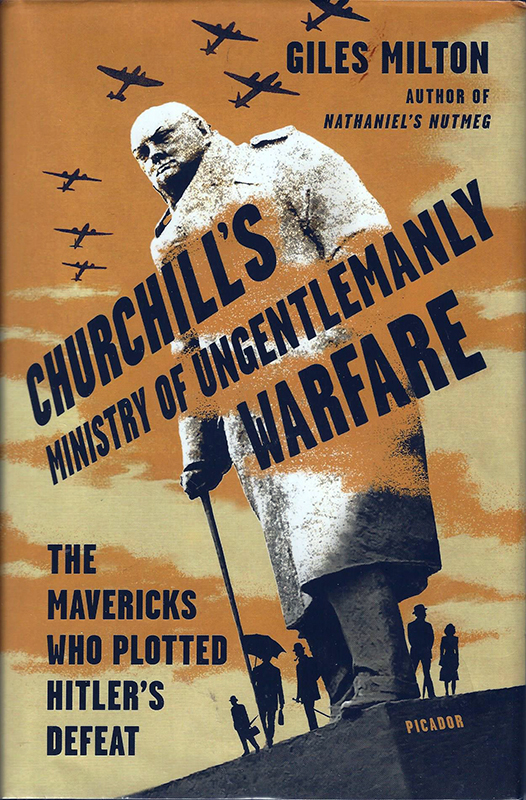 both conventional and unconventional combat against the Hitler juggernaut.  There are chapters on the crippling of the Nazi heavy water plant in Norway that allowed America's Manhattan Project to beat Germany to the atomic bomb, and on the recruitment of Eric Sykes and William Fairbairn to teach commandoes silent killing of enemy sentries with and without knives, and assorted other armed and unarmed combat skills.  Sykes and Fairbairn in turn taught Rex Applegate, who was with OSS, the US Office of Strategic Services that would eventually morph into today's CIA.
I knew about that stuff, but among other things I didn't know was a factoid involving a famous American pistol.  It seems that when Czech patriots assassinated one of the most evil Nazis, Reinhard "The Butcher of Prague" Heydrich, they were armed with American handguns. Heydrich, remember, was the man in charge of the monstrous "Final Solution."
The year was 1942. The designated hit men, Jan Kubis and Josef Gabcik, had been trained by the British group Hinton writes about, the Special Operations Executive. Milton relates, "Gabcik and Kubis were to be disguised as street cleaners and 'were to begin sweeping the road at a selected corner. Their explosives and arms were to be concealed in their dustman's barrow.' If (their) grenade failed to kill Heydrich, they were to shoot him 'at close quarters with their Colt .38 Super'."  They also had a British Sten 9mm submachine gun.
When Heydrich's chauffeured vehicle passed them at close range, Gabcik whipped up the Sten and pulled the trigger, but nothing happened: the submachine gun had "jammed." An enraged Heydrich drew his own pistol and ordered his driver to halt, just as Kubis lobbed a grenade. Specially built by Churchill's pet scientists for maximum power, the grenade hit by a rear tire but still exploded with enough power to mortally wound Nazi Germany's chief mass murderer. Milton narrates what happened next:
"Kubis had been hit by the flying shrapnel and blood was streaming into his eyes. Through a veil of blood, he saw (Heydrich's chauffeur) Klein jump from the car and run towards him, pistol drawn. Gabcik had managed to avoid the shrapnel, but he was horrified to see Heydrich drag himself from the vehicle and level his gun. He was lurching forward, shouting wildly as he prepared to fire. Gabcik ditched his jammed Sten and drew his Colt, taking pot-shots at Heydrich from behind a telegraph pole.
"Kubis wiped the blood from his eyes, dodged Klein's bullets and jumped on to his bicycle. Klein took aim once again and tried to bring down the fleeing Kubis with a hail of bullets. But his gun also jammed, enabling Kubis to get away…
"The situation was more desperate for Gabcik. He was caught in a shootout with Heydrich and risked being either shot or captured. But as he was ducking the bullets – suddenly – the unexpected happened. Heydrich staggered to the side of the road and collapsed in agony."
Both of the Czech patriots escaped the scene. Heydrich died a few days later from sepsis due to shrapnel wounds from the powerful grenade created by Cecil Clarke, one of the scientists in Churchill's elite unit.  While the Nazis inflicted severe reprisals on the Czech citizenry, many historians believe that overall, Heydrich's death saved more innocent lives than it cost.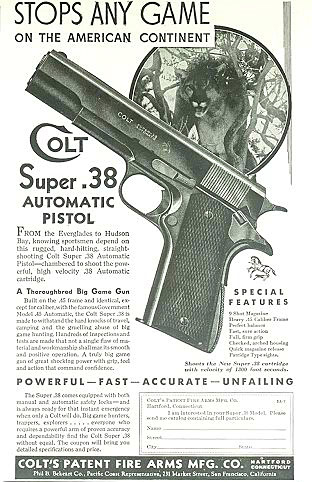 Why a Colt Super .38? Developed in 1929 and somewhat popular among American police and Federal agents, it launched a deep-penetrating 130 grain full-jacketed bullet at over 1200 feet per second. In the time of motorized bandits like Dillinger and Bonnie and Clyde, American cops liked it because it would punch through auto bodies.  John Dillinger and Baby Face Nelson, unfortunately, liked it for the same reason.  It would have been something Sykes and Fairbairn, both big fans of semiautomatic Colt pistols, would have recommended for killing a monster in a motor vehicle. Interestingly, Colt advertised it more as an outdoorsman's pistol capable of piercing deeply into dangerous critters like big bears.
Check out "Churchill's Ministry of Ungentlemanly Warfare." It's a helluva good read, with lots more info. For a decent movie on the topic, check out "Anthropoid," titled for the code name of the Heydrich assassination mission. In the movie, the role of the Colt Super .38s appeared to be played by Colt 1903 Pocket Model pistols.