IDPA NATIONAL CHAMPIONSHIPS
I've mentioned IDPA, the International Defensive Pistol Association, in these pages several times before. Founded in the mid-1990s, IDPA is the "concealed carry sport." Newcomers should picture combat handgun shooting in replicated scenarios, sometimes quite elaborate, with police/concealed carry/home defense style pistols and revolvers, normally all drawn from concealment.
Last week, the organization completed its 2009 National Championships in Tulsa, Oklahoma, at the fabulous United States Shooting Academy range.  Nearly 400 men and women competed, from kids in their teens to septuagenarians and encompassing military personnel, working street cops, and a huge number of law-abiding armed citizens. Was it a tough match? Well, firing around 250 rounds apiece over 17 CoFs (courses of fire), they collectively dropped over 47,000 points. A fast swinging target emerging sporadically from behind the cover of an actual automobile is not an easy target to hit…nor are three narrow silhouettes in a pitch black "tunnel rat" scenario where all you have is your pistol or revolver, one spare reload, and an unfamiliar flashlight you've just been issued. However, unexpected situations have a way of taking place, and preparing the contestant for that sort of thing is really what IDPA is all about.
You don't need a Perazzi shotgun the price of a summer cabin in the mountains to be competitive. Bob Vogel won the Enhanced Service Pistol division, and Dave Sevigny won the Stock Service Pistol and overall fastest shooter honors with relatively inexpensive 9mm Glocks that had only been slightly modified (sights, etc) to their users' tastes.
IDPA shooting is not a self-defense technique born in sport; rather, it is a skill-testing sport born in self-defense principles. Its founders, led by Bill Wilson, touched a responsive chord in America with this concept. It is a truly egalitarian undertaking. The shooters are young and old, male and female, in every color of the human rainbow and crossing socio-economic lines.  The super-star champions repair other shooters' targets after scoring, just like any other competitor.
This was a gathering of truly wonderful people, but my vote for hero of the event goes to Curt Nichols, who continued a four-year winning streak by capturing the national champion title in Stock Service Revolver division, AND spent a solid three months as designated match director taking great pains to make this a superb tournament. Great pains also took him: days before the match, he was in a serious car crash, and despite recent fractures and internal injuries was on the range all day, every day for the tournament. In his off-time, Curt works tirelessly for injured vets with both Wounded Warriors and HAVA, which takes permanently injured returning soldiers on hunts similar to the ones they enjoyed before they were physically shattered fighting for their country.
Meeting people like Curt Nichols is reason enough to join IDPA. Info is available at www.idpa.com,  a website that will lead you to one of the hundreds of gun clubs offering regular local matches and probably within driving distance of you. To hear from Curt Nichols and some other voices of IDPA, catch the Pro-Arms Podcast interviews coming out of the 2009 IDPA Championships at http://proarms.podbean.com, which will be posted and downloadable in Mid-October 2009.
Curt Nichols "played hurt," winning National SSR championship AND managing the match!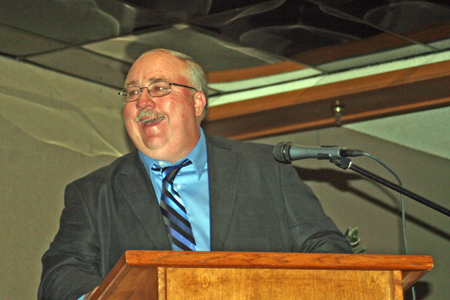 Rob Vogel begins a stage with sound-suppressed Glock 17, and winning ESP Championship with his own Glock.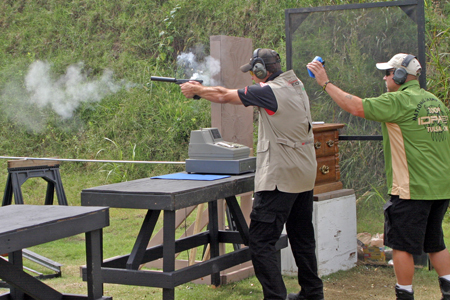 Young Randi Rogers wins National Woman Champion title, here in the midst of a fast double tap with her Glock 34 9mm.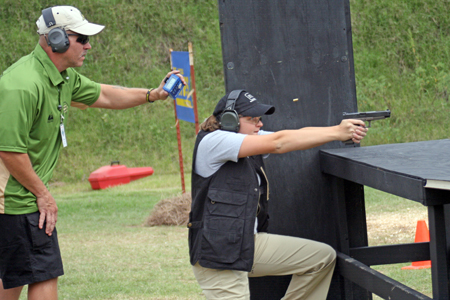 Mas shoots through car at the target he found toughest, fast-moving swinger behind cover some 20 yards away. Gun is S&W Model 67, a .38 caliber Stock Service Revolver.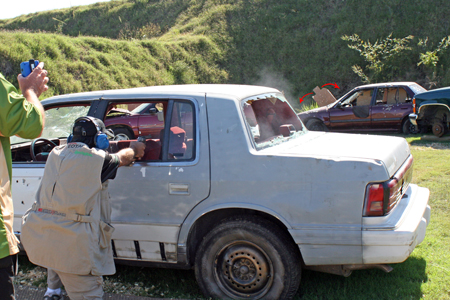 A microcosm of the competition field is shown at the EOTAC free shooting clinic the day after the match. It was taught by Team EOTAC shooters (in black shirts on either end) including national champ Robert Vogel.