IN THE EYE OF THE (GENTLE) STORM
I was in North Florida over the Memorial Day weekend.  The weather folks were predicting dire results from Tropical Storm Beryl.  So, we did the logical thing.
First, we went shooting.  Then, we went for a barbecue.
No one I knew went out desperately searching for batteries, water, generators, etc.  The reason was simple:  we already had all that.
The storm hit hardest on the coast, where according to today's Jacksonville Times-Union tens of thousands of people were without power, but there had been no deaths or major injuries.  Here, considerably inland, we didn't even lose Internet.  What we did get were torrential rains, most welcome because of long-standing drought conditions.  The famous Suwannee River had been getting close to becoming the Suwannee Hiking Path.
Along with somber reflections on the meaning of Memorial Day, there was the peaceful joy that all those brave Americans sacrificed their lives for the rest of us to revel in. There was some dancin' in the rain, some good Southern food, and some good conversation with great people.
No one knew better than us that the mellowing of the storm by the time its eye passed over us was sheer luck…but it also reinforced something I've long believed:
Bad things are most likely to happen to people who are not prepared for them.
Miz Terri completes a shooting session just before the rain starts…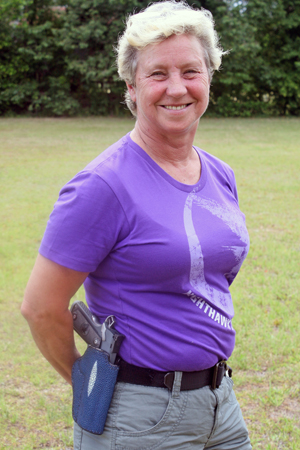 …with her Nighthawk Custom 9mm, worn with Stingray holster and magazine pouch by Secret Squirrel Leather.  A cool "barbecue rig," too!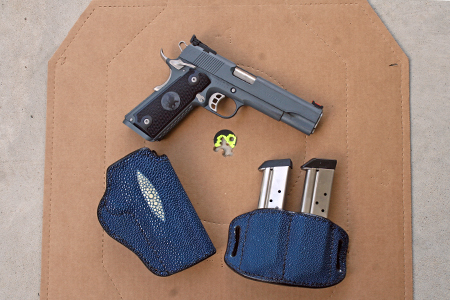 The rains have come.  This old fat guy stays safely under cover, wearing…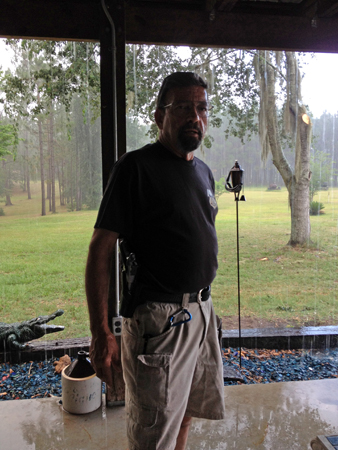 …a Colt .45 auto customized by Dave Lauck of D&L Sports, in an Andrews sharkskin holster made for Wilson Combat.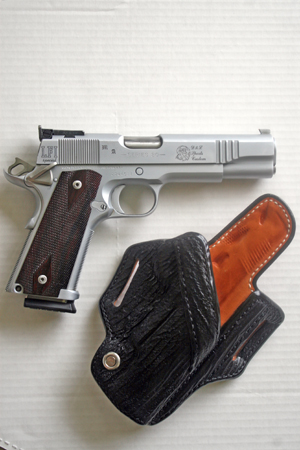 If you're stupid enough to go geocaching at night in pouring rain with your sweetie, a good choice is a stainless Smith & Wesson .357 Magnum in Bianchi shoulder holster under your raingear.