A while back, I did a review of my old friend Mike Conti's first historical novel, focused on the early years of early 20th Century gunfighter Jelly Bryce, who started out as a city cop in Oklahoma and moved on to J. Edgar Hoover's fledgling FBI.  Now comes the second book in Mike's trilogy, "Jelly Bryce: FBI Oddyssey."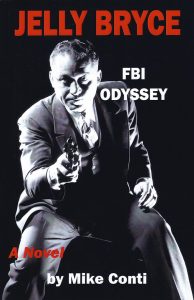 A long-time Massachusetts state trooper, and still a top-ranked firearms instructor in his retirement, Conti knows his stuff and effectively brings Bryce back to life.  Mike has deeply studied his subject. Hoover did indeed bring gunfighters on board when he realized accountants and lawyers with guns weren't up to the challenges posed by ultra-violent criminals like John Dillinger, Baby Face Nelson, and Bonnie (Parker) and Clyde (Barrow).  One such "lateral transfer," Charles Winstead, was the man who killed Dillinger.
One particular thorn in Hoover's side was Vincent "Mad Dog" Coll.  Mike tells me that some folks believe Bryce might have been sent after Coll.  Conti himself doubts that, as I do: Bryce isn't known to have spent a lot of time in Coll's northeastern bailiwick, and the timing isn't quite right.  However, Mike thought it ought to be addressed.  I won't spoil it for you, but suffice to say that the manner in which Mike wrote that element into this book could be used to teach creative writing.
The new book closes with Hoover and Bryce still in the honeymoon phase. Alas, history shows that when an individual agent got more press than J. Edgar himself, the big boss was not pleased.  Melvin Purvis was one example, and Bryce was fated to be another…but that, I expect, will have to wait for the final volume of Conti's trilogy.
For now, I have to say I enjoyed heck out of "Jelly Bryce: FBI Odyssey" by Mike Conti, and I suspect you will, too. It's available on Amazon.