Hope all y'all had a great Valentine's Day.
Started the morning with true romantic spirit, sleeping in and watching "Zombie Apocalypse," the Ving Rhames one, which turned out to be every bit as unintentionally funny as I'd been told.
High points for hilarity were a tie between the Browning M2 .50 caliber machine gun mounted on a shopping cart, and the zombie tigers.  The latter were kinda matted & ratty, as would befit their undead status, and the Ray Harryhausen-ish movements were about what you'd expect from a critter trying to "walk off" a pretty good case of rigor mortis.
Well, my valentine and I are both Calvin & Hobbes fans, and all we could think was, "Hobbes Twenty Years Later." "Sooo, Calvin, you thought you could just abandon me at that dump when you went off to college, eh…?"
The live critters of our holiday were more fun, bearing in mind that we'd celebrated Valentine's Day as a couple the weekend before, at a Glock match ably run by the Central Florida Rifle and Pistol Club in Orlando.  After an absence of prehistoric wildlife, the range pond now appears to have two resident alligators, one of which kept a wary just-above-the-surface eye on the loud doings a short distance away.  My valentine is a self-described "shooter chick," and we were far from the only couple in attendance.  Nothin' says redneck romance like volleys of gunfire.  A recovering big city denizen, my sweetie is in her element on the range, and loves living where she can carry.
We finished up the 14th at Starbucks, dropping two-dollar bills (to commemorate Starbucks' refusal to knuckle under to anti-Second Amendment advocates boycott, see post here of January 28, 2012).  Thanks to all who did the same.  The barista who served us told us we certainly weren't the only ones there for The Cause, and our collective presence was appreciated. (Tried their new Blonde Roast, a light, crisp blend for an afternoon cup.)
Guns, 'gators, and zombie tigers…seemed like a righteous redneck Valentine's Day to me.Also helped me to understand why I'm the firearms editor at Backwoods Home, and not the romance editor…
"O my Valentine, my love for you is as undying as, uh, this zombie tiger from 'Zombie Apocalypse,'…"
It ain't a REAL  redneck Valentine shootin'  match if ya ain't got a pond 'gator watching the range balefully…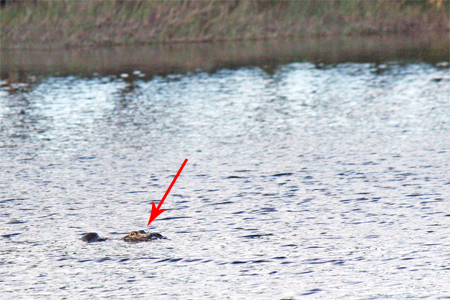 Shooter-chick celebrates Valentine's Day by strafing down six plates right to left with a Glock 30 loaded with .45 hardball.  Notice spent casing from last shot just behind pistol's slide, muzzle still on target as middle plate is hit. Strong women are the most interesting…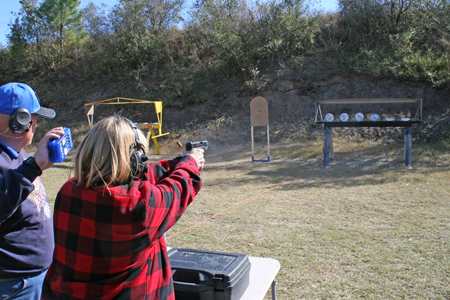 A $2 bill, symbolizing "2A support," goes into the tip jar at the nearest Starbucks.