Who stands six feet, five inches tall, weighs 300 pounds, and carries a cocked and locked STI 1911 pistol?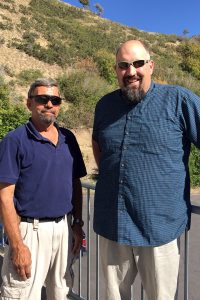 Well, I can think of two. Owen Zastava Pitt and Larry Correia. Or maybe that's one, 'cause Larry created Owen as the lead protagonist in his best-selling science fiction/fantasy series of novels, and the two have a lot in common.
A little while back in this blog, when I wrote about meeting Stephen Hunter, one of my favorite writers, I mentioned that I hoped to one day meet Correia, too, because he was one of the very few writers I read in that genre. The reason was that he got his details right, did not break my "willing suspension of disbelief" … and was also funny as hell.
In person, it turns out, Larry Correia is also funny as hell in person, and totally down to earth, and of course, One of Us. What else should we expect from a guy who was associated with the coolest named gun shop in history, Fuzzy Bunny Movie Guns, in his younger days?
I enjoyed heck out of his best-selling series, Monster Hunter International. In his second best-selling series, the Grimnoir Chronicles (which he describes as a blend of early 20th Century noir and steampunk), he had me in the first such novel when he made John Moses Browning one of the characters. The evil princess and I have the next two in the series as audiobooks and will be consuming them on our next long drive.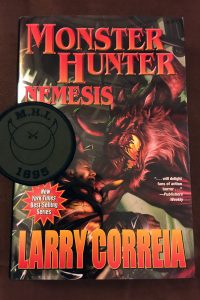 If you're a gun person and you haven't read Correia, you're missing some great entertainment. Check him out – Amazon will get you to his work, and Google should get you in among his many fans – and I think you'll be glad you did.
Oh, and by the way, Larry's last name is pronounced "Korea," not "courier."