OMG! Only HOW many shopping days 'til Christmas?
If there's a shooter as yet unaccounted for on your Christmas shopping list, there's still time. For young folks, there are scaled down sets of ear and eye protection. THIS set of safety glasses and muffs for junior shooters is 30 bucks from that old standby source, Brownell's. Might find 'em at your local gun shop and save waiting time.
If a reindeer hunting rifle is too pricy for the gift budget, how about some nice handles for the giftee's sidearm? Check out these handsome stocks I just got from Eagle Grips for a favorite six-shooter.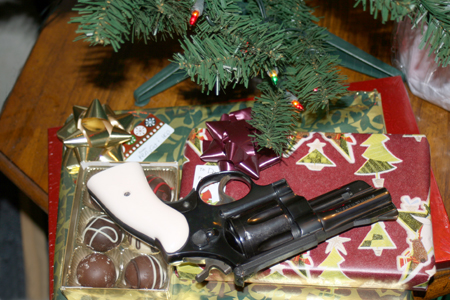 Giving a firearm is a gift of trust, of responsibility, of protection. It can also be a huge hassle with the paperwork, in some states more than others. Well, that's why there are gift certificates. The giver lays down the paperwork, and the recipient gets to fill out the yellow form at the gun shop.
The National Rifle Association is our strongest bastion of defense for gun owners' civil rights. A gift membership is as low as $35 for one year. You can sign up the giftee online at www.membership.nrahq.org.
For more thoughts on gun-related gift giving, go to Podcast 41 of the Pro-Arms Podcast. Several of us got together and pooled thoughts and memories of Christmases past.
Finally, let's not neglect the gift of laughter. This link was sent to me by bro Erich, who contributes here. My compliments to Chef D'Allessandro for cooking up the funniest piece of firearms writing I've seen all year.