LEARN FROM AN AMERICAN GUNFIGHTING HERO
On April 11, 1986, a gunfight occurred between two heavily armed robber-killers and a squad of FBI agents.  In a battle to the death that lasted for minutes and went into a three-figure count of shots fired, the two criminals and two of the agents died. Three more agents suffered gunshot wounds that left them permanently injured, and two more were hit but recovered completely from their wounds.  This cataclysmic incident led to profound changes in law enforcement armament, ammunition, and tactical procedures nationwide.
At the end of that lethal duel, it was Special Agent Edmundo Mireles who finally killed both gunmen, fighting through severe wounds and loss of blood himself. Because studying gunfights is part of my job, it's something I've written about many times, interviewing some of the surviving participants including Mireles.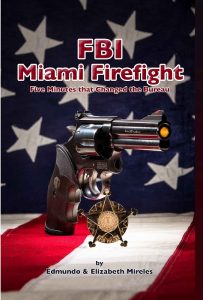 Now, Ed has written a book telling his own story and learning points.  You can order it here: https://edmireles.com/.  One thing that particularly impresses me is that it is co-authored by his wife, Elizabeth.  In part of the book, she, an FBI Special Agent herself, tells her side of the story.  Too many people perceive themselves alone against the antagonist, like a science fiction thriller set on a desert planet. We all need to remember that what we're fighting for is to stay alive for the people we love, the people who love and need us.  Her perspective is a critical, often missed element, and I was glad to see it in the book.
I'll be doing a write-up on the book and my more recent discussions with Ed in a forthcoming issue of American Handgunner magazine.
But, more important, you can hear it in person from Ed himself.
Ed has lectured on the incident and its learning points many times to law enforcement personnel. When he and I were talking about the book, I suggested he make his lectures available to law-abiding armed citizens as well.  He was agreeable, and I hooked him up with John Murphy in Virginia.  Ed will be doing a five-hour presentation for John on August 25, 2018, in Chantilly, VA, hosted by John. To sign up, go here.
Ed will also be giving this lecture for Tom and Lynn Givens of Rangemaster on December 1, 2018, in Tampa, Florida.  You can sign up here. I hope to attend that one myself.
In the early 1990s, I brought Ed in to give his lecture for American Society of Law Enforcement Trainers.  The experience was absolutely spell-binding.  I think you'll appreciate his hard-learned knowledge as much as we all did then.
If you can't make the seminar, definitely order the book.  It isn't just about gunfighting. It's about facing death with others dying around you, and even if you don't own a gun, Ed's insightful lessons on survival mentality are solid gold.