LESSONS FROM WARRIORS PAST
Born shortly after World War II, I was a "boomer baby," and a little boy when the war in Korea broke out. In school I would later be taught that it was a "conflict" or a "police action," but my parents were more honest about it and always called it "the war in Korea." "War" being the operative term.
All of us who live in a free country must always remember the sacrifices of those who have fought on behalf of this nation, from then to now. Their travails, in some ways, can teach us ordinary lessons that work in peacetime.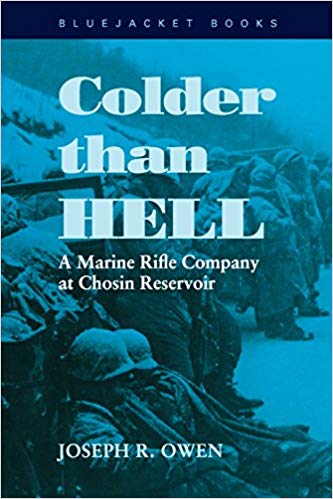 I recently acquired a copy of "Colder Than Hell: a Marine Rifle Company at Chosin Reservoir," by Joseph R. Owen, published in 1996 by Random House. The author was a young Marine lieutenant facing his first combat.
We learn from this book the importance of dressing for the weather. In the hellish cold of the Korean winter, American fighting men at first were issued the wrong coats, gloves, and footgear. Then, they were issued heavy rubber pacs for their feet. The rubber didn't "breathe," their feet sweated from their strenuous infantry duties, and then the cold froze their wet feet. A stunningly high toll of frostbite led men to lose toes, fingers, and more.
We learn of men caught in kill-or-be-killed violence so savage that they used every weapon available including their bare hands. Owen wrote at one point, "As Van Winkle and Toppel got up, they found themselves caught in the midst of a forward squad of the onrushing Chinese. Toppel pulled out his pistol and shot into the enemy soldiers. By the light of muzzle flashes and exploding grenades he glimpsed Van Winkle firing his carbine on automatic and slashing his bayonet at the Chinese swarm. Then he saw the burly Van Winkle lift a Chinese above his head and hurl him into a group of enemy soldiers. They fell into a heap; Van Winkle and Toppel fired into them."
We see the pain of loss of loved ones. Owen writes of one of his best friends in a moment of heated combat, "He spread out his map and traced the route that I was to follow. Then he fell silent. A Chinese bullet had found its target, just below the rim of his helmet, in the center of his forehead. A small black hole appeared there. Joe Kurcaba's dead eyes stared at me for several seconds before he slumped slowly to the ground. I caught him in my arms as he fell and held him for a moment. Then I lowered him gently into the snow. Jesus, God! Joe Kurcaba. My friend, Joe, who had helped me so much, shown me so much. Who had gone to bat for me with Captain Wilcox. Who had been my big brother. Joe Kurcaba, whom I loved."
We vicariously experience the horror of being shot down because we weren't fast enough to stop it. Wrote Owen, "I couldn't get my weapon on the two Chinese above me fast enough. The one with the rifle put a round into my left shoulder that spun me around. Its impact generated a shock, like a powerful jolt of electricity, that went through my entire body. Damn! How could I be hit? After all this, how could I get hit? I saw the burp gunner trigger a burst at me. The snout of his weapon flashed, and I could not lift my feet above the knee-deep snow to get out of the path of his bullets. Two slugs tore into my right arm. Two more of the electric jolts and my carbine flung itself from my grasp. I saw it rise into the air as I fell into the snow…"
The wounds crippled Joe Owen's right arm for life, and took him out of his beloved Marine Corps forever. His book, published more than forty years later, is a monument that teaches us how to deal with life-or-death crises. It is why his memories, and those of so many others like him, must never be allowed to fade.