LITTLE NEW UNDER THE SUN (OR IN THE DARK)
In case you haven't been looking, more American police seem to carry flashlight-mounted pistols in their duty holster in uniform, than not. WMLs (weapon-mounted lights) have also become hugely popular for home defense. There are even itty-bitty ones for small concealed carry handguns.
I remember seeing an early 20th Century version, a Colt Police Positive .38 revolver with a crude flashlight built on.  That, it turns out, was not the genesis of the concept: .
That was a wonderful read. Also a bit chilling. Two hammers, two triggers. Pull one trigger to fire the lethal weapon. Pull the other trigger (in the dark, by definition) to light the attached lamp.
What could go wrong?
The same reminder to readers that I give to students: consider the weapon-mounted light to be for emergencies, and use a separate hand-held light for searches unless there is a very high-probability "shoot" target somewhere in front of you. The reason: in any sort of uncertain situation, you're pointing a loaded gun at everything you look at. It's analogous to the slob hunter we all despise who is too cheap or lazy to use binoculars, so he scans for game through the telescopic sight of his loaded rifle, the muzzle of which crosses everything else in the woods including maybe us and our little ones. Pointing loaded guns at people who don't deserve it is known in the criminal justice system as "felony aggravated assault."
That doesn't mean "Don't use WML firearms or scoped rifles." Quite the contrary. We'll never know how many lives were saved when a hunter at dusk saw through the magnified sighting tube what he couldn't see with the naked eye: what looked like a deer was really a person. Nor how many lives were saved when a cop (or law-abiding armed citizen) in danger in the dark saw a the last moment in the WML's bright beam that the suspect was holding a cell phone, not a weapon, and realized that pulling the trigger was not necessary.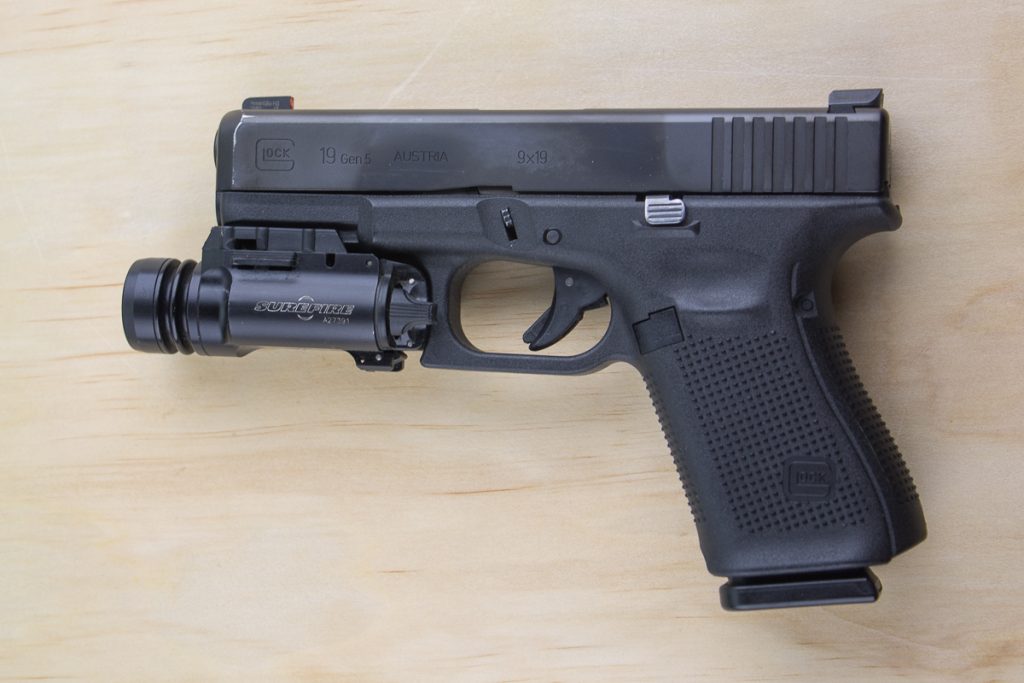 This time of year I like to carry a light-mounted pistol. Winter tilts our northern hemisphere away from the sun and gives us more dark time, and cooler weather allows us to wear clothing that discreetly conceals bulkier handguns.  My carry pistol du jour is a Gen5 Glock 19 9mm, mounting a SureFire light and loaded with sixteen rounds of Winchester Ranger-T +P ammo, which sends a 127 grain jacketed hollow point bullet out of the muzzle at 1250 feet per second, about the ballistics of the most street-proven .357 Magnum load from the two-inch barrel of a concealed carry revolver.  The Bravo Concealment outside the belt scabbard it presently rests in conceals it very well with my January wardrobe, and if I need deeper concealment, I have an inside the waistband hybrid rig to fit it from Concealment Solutions.
"We've come a long way, baby!"