Apologies for the slow blogging this week, folks. The Evil Princess and I drove out of Little Rock Sunday afternoon from the Rangemaster Tactical Conference to St. Louis, where on Monday I once again chaired ILEETA's Panel of Experts on Firearms and Deadly Force issues.  We had to drive from there almost 900 miles to make it to a Wednesday deposition in an attempted murder case.  That left us kinda short on writing time.
In St. Louis I was once again able to assemble an all-star cast of master instructors. We address hot button issues, and in mid-March of 2018 nothing was hotter than the police response at the Parkland school massacre.
All in the room were appalled that deputies were on scene including a designated School Resource Officer, but no one entered the school until Coral Springs officers arrived to back up the personnel present.  By then, 17 innocent people, mostly kids, were dead and some 14 wounded.
I was proud that our blue-ribbon panel included Ron Borsch, the man who pioneered the concept of the first responding officer going in alone. Excoriated by the old heads for coming up with this concept years ago, he has been proven correct.  He would be proven right again the day after the Panel, when a courageous School Resource Officer in Maryland named Blaine Gaskell responded in less than a minute to gunfire, reportedly fired a single shot himself, and the threat was over. (Kudos to the blog readers here who have mentioned that in previous commentary already.)
Many on the panel had already trained armed school personnel, myself included, but Chris and Michelle Cerino had probably done more of that than anyone else present. Chris has stated in the past that their team trains the teacher to a slightly higher standard than state troopers. When I asked for a show of hands, all but three in the audience of more than sixty raised their hands in support of armed faculty programs.
The Panel of Experts is a regular thing at ILEETA, the International Law Enforcement Educators and Trainers Association, which I've proudly served on the board of advisors since its inception. If you train law enforcement personnel, whether or not you are a sworn officer, you are eligible to join, and it's an incredible week-long "knowledge download." Information can be found at www.ileeta.org.
I snapped this photo of the Panel during the discussion of response to active mass murderers. From left: Vicki Farnam, Kevin Davis, Chris and Michelle Cerino, John Bostain, Manny Kapelsohn, Brian McKenna, John Farnam, Ron Borsch, Don Alwes, and Bert DuVernay. Absent is Lou Ann Hamblin, who came in late to the second half because she had to be teaching elsewhere at the ILEETA seminar during the first couple of hours.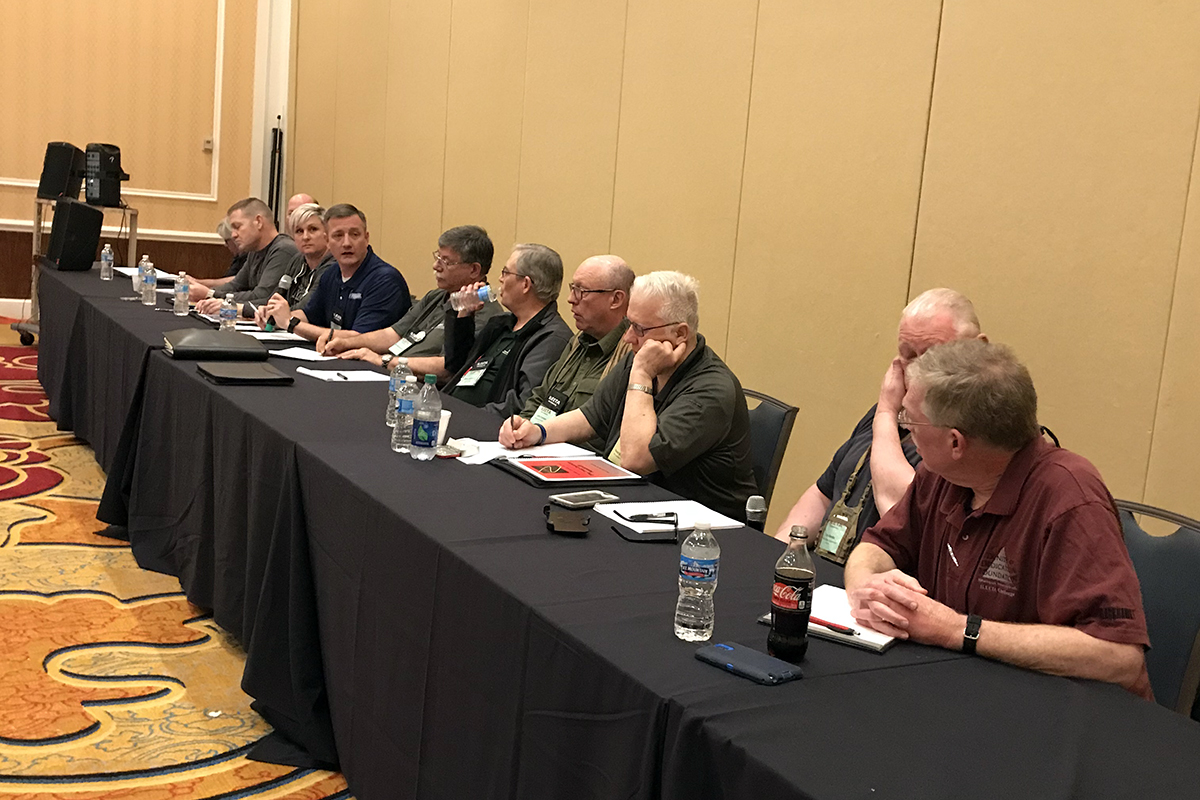 Driving out of St. Louis in the rain, toward the Arch and the next destination.