MORE CHRISTMAS GIFT READING: "CORNERED CAT"
I've already paid for a dozen copies of this one as Christmas gifts, if that tells you anything.
Kathy Jackson, famous for her website geared to women who arm themselves to protect their families, has now collected her wisdom and sharp perspective in book form.
The title comes from Kathy's approach. She sees herself as a pussycat, not some female Rambo. But if she or her offspring are threatened, she explains why the cuddly feline becomes a cornered cat, swiftly and unexpectedly applying fang and claw until the threat is no longer a threat.  Sounds like a good approach to me.
Ms. Jackson has been through advanced training with me and many of the top people in the business, and is now a member of my adjunct training staff at Massad Ayoob Group as well as a regular instructor at the famous Firearms Academy of Seattle. She's also the editor of Concealed Carry Magazine.
I've seen her shoot, and I've seen her teach.  She has the subject matter nailed, and more important, she knows how to convey it. Though she is most famous as a woman who teaches women, her material is every bit as useful to the male of the species. From techniques to mindset, she teaches from a basis of common sense, not macho (or "macha") fantasy.
A taste of Kathy's wisdom, practicality, and eclectic approach can be had at her website Cornered Cat.com "Cornered Cat," the book, is published by (and can be ordered from)  White Feather Press. While you're at it, put in the shopping cart "Lessons From Armed America," which Kathy co-authored with Mark Walters. It's a compelling collection of cases where armed citizens of both genders have saved their own lives, and the lives of other good people, with the judicious use of defensive lethal force.
As you go down your Christmas gift list, consider "Cornered Cat" not just for your gun buff friends and relatives, but for those who have not yet made the decision to prepare to protect themselves and their loved ones.  Kathy Jackson is a very persuasive author.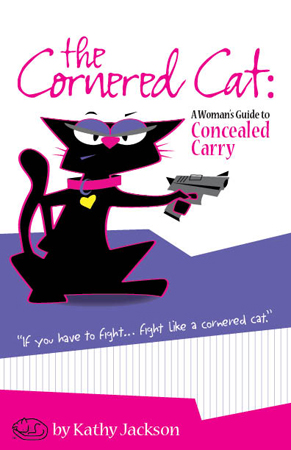 Kathy Jackson walks the walk before she talks the talk. Here, she has just shot a perfect 300 out of 300 score on a 60-shot police-style qualification course with the Glock 9mm she carries 24/7.