MORE ON THE NEW CROP FROM SMITH & WESSON
Finished the S&W seminar last night, and the thirteen or so of us who were there were by and large pleased with what we saw of the latest introductions.
On the rifle range, we were all impressed with the accuracy and smooth function of the Thompson/Center high powered, bolt action hunting rifles. T/C was famous for accurate, value-priced guns even before they became an S&W subsidiary. The distinctive Icon Precision Hunter, new this year, lived up to its name with groups well under an inch at a hundred yards. Even their low-priced ($500 manufacturer's suggested retail price) Venture model was doing under an inch at that distance. We were shooting the Precision Hunter in .22-250, and the Venture in .30-06.
Those cute little .22s I mentioned in the last blog entry endeared themselves to all. Factory insiders told us to expect an inch and a half shot grouping for five rounds at fifty yards. We did that easily with CCI Mini-Mag ammo, which is a small game hunting and general purpose round. Chris Christian, who writes for Outdoor Life, got 1.1" in a strong crosswind. In the course of two days we put thousands of rounds through an assortment of these cute little AR15 clones, and I never saw one malfunction. It's going to be interesting to see, down the road, what these rifles can do with standard velocity Match grade ammunition. I'm down for two of 'em, one for me and one for the Significant Other and Adult Supervisor.
The comments on the previous entry on this topic showed the intensity with which firearms traditionalists dislike the integral lock system that S&W has been putting in its revolvers for the last several years. The keyway is an unsightly hole above the cylinder release latch, and the key that comes with the gun can be used to lock the action frozen, preventing firing if the gun gets into unauthorized hands. This produces a visceral negative response from gun folks on several levels.
First, it changes both the appearance and (subtly) the frame shape of the gun. It's an esthetics thing. Second, it's like dumping mandatory helmet laws on motorcyclists: experienced practitioners believe they can handle their own safety needs, thank you very much, and don't like someone else's safety concepts being forced upon them. Third, it's a constant reminder of the anti-gun Clinton Administration's attempt to force unwanted things down the throats of free American gun owners, which is why so many disparagingly call that little keyway the "Hillary hole." Finally, there have been a few – not an epidemic, but definitely, a few – cases where the damn thing has locked itself spontaneously during firing, and that just sends cold chills down the backs of those who rely on firearms for life-saving purposes. I've generally run across that happening only with the very powerful guns in very light formats, the Model 329 super-light .44 Magnum with hot loads for example.
I discussed this with the S&W folks at the seminar, and frankly, long before then. There is strong sentiment among some at S&W to get rid of the lock, just as there is among those consumers who prefer classic firearms. However, the company is going to stay with them for a while because of the liability climate, and the fact that integral locks are required to sell their products in jurisdictions such as California. The feedback S&W gets from firearms retailers and general consumers is that only a small, hard-core group of gun fanciers consider the lock a "deal-breaker."
For those who don't like that feature, S&W added this year another gun to their "lemon-squeezer" line, a retro re-introduction of the Model 42 revolver of 1952. "Hammerless" in external configuration, it has a grip safety that will only allow the trigger to be pulled when in something approximating an intentional firing hold. Action was sweet, workmanship was good, and the little Model 42 snub-nose (weighing under a pound thanks to its aluminum frame Airweight construction) shot where I put the sights. Buying one of this series, also available in all-steel from an earlier introduction, can help send S&W the message that you'll spend your money for their guns if they DON'T have those internal locks you don't like.
More later…
Here's the new version of the classic-style K-22…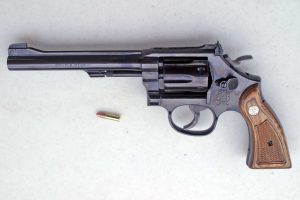 Chris Christian of Outdoor Life got this 1.1 group with the 15-22 in a crosswind at 50 yards with CCI Mini-Mag .22 LR ammo.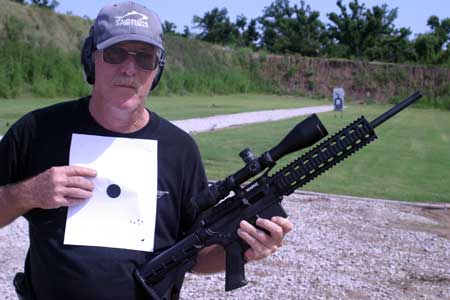 This is the reincarnated Model 57 in .41 Magnum.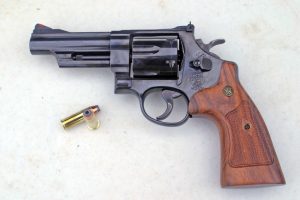 Newly introduced .38 Special Airweight Bodyguard, the Model 438, is blackened stainless with aluminum frame. Red arrow points to the internal lock keyway…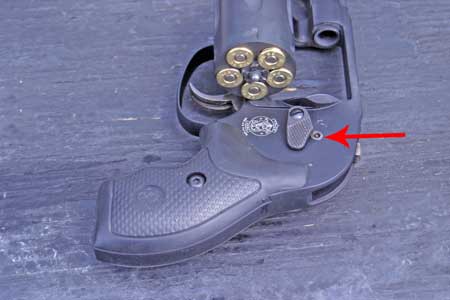 …while the lock is notably absent from this Model 42-1 Airweight .38 Special "lemon squeezer."