In keeping with the last post here, regarding small self-defense revolvers, let me flag you to something an old friend of mine recently came up with.  Roy Huntington spent 20 years as a cop on the mean streets of San Diego, and today is one of my editors. We both started at a time when cops carried service revolvers, and detectives and off duty officers traditionally packed .38 snubs.  Handguns with lights attached were not a practical reality.
Roy has come up with a new product via Hyskore.  The Griplight fits any round-butt J-frame Smith & Wesson revolver, replacing the grips.  Grasping pressure of the firing hand activates 100 plus lumens of white light, much the way Crimson Trace LaserGrips send out a red aiming beam.  Light is more important, IMHO, since it lets you identify your target.  To give you half an hour of running time, it uses a CR2 battery which, storing more juice than flat batteries, needs to be put in the butt area.  This lengthens the grip accordingly.
This brings grip configuration to about the size of a service revolver with good, hand-filling combat stocks.  No longer an ankle holster or concealed-in-the-pocket proposition, but hell, folks of Roy's and my generation and older have been concealing full-size service revolvers under sport coats and even un-tucked polo shirts in good hideout holsters for many decades.
On the farm or ranch, open carry is no concern, and the J-frame so equipped carries nicely tucked in the hip pocket or the front pouch of bib overalls; when you're on your own property, concealment isn't mandatory.  Right now, my test unit is on a Model 340 Military & Police .357 Magnum. The big grips really attenuate the recoil of a sub-fourteen-ounce super lightweight revolver with a full power Magnum load.
A lot of the vermin that needs to be shot in the countryside can be handled with a .22.  I'm thinking seriously of putting these grips onto my sweet old Smith & Wesson .22 Kit Gun, which is more accurate than a 2" barrel revolver has any right to be.  The last animals that had to be killed on my rural property – a rabid fox, and a water moccasin – were shot with Glocks in calibers .45 GAP and .357 SIG respectively, and both in poor light.  A .22 would have been easier on the ears.  The white light from the Griplight would have been perfect under those conditions.
The Griplight is an excellent value, I think, at approximately $130.  They can be ordered from another old friend, Bill Laughridge at Cylinder & Slide, be sure to click on "new products."  A very useful product, designed by one good man who knows his stuff, and sold by another…what's not to like?
The Evil Princess pierces the darkness with white light and orange fire from Griplight-ed S&W.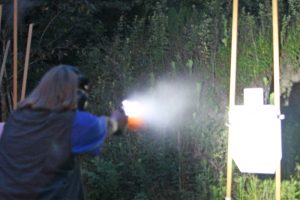 Ultralight S&W 340 M&P at height of recoil; Griplight absorbed recoil of full power Black Hills 158 grain .357 Magnum rounds very well.