A few entries ago, you were promised that as soon as we got our hands on the latest new Ruger rifle, you'd hear back. Well, we muckled onto three or so of 'em this past week, so here we go.
As noted here earlier, the rifle is designated SR556, for Sturm, Ruger 5.56 millimeter. It takes standard AR15/M16 magazines, and comes with three of them, produced by Magpul, one of the best makers. It's the most "vendor-outsourced" firearm this company has ever assembled – really, pretty much everything but the barrel and barrel extension come from outside the factory – but it's an AR15 clone, after all, and that's the logical way to make one given the nature of the industry. The trick is to use the best parts.
We toured the production cell at the Newport, New Hampshire plant. Ruger's switchover to "lean manufacturing" has changed the look of the factory dramatically in the last few years. SR556s were literally flowing off the production line.
But, enough of that: how does it SHOOT?
The subtle feel of the mechanism as it cycles is different from your usual Stoner-type AR15, because the Ruger entry works of a piston design, specifically a proprietary two-piece piston. One of my fellow shooters said, "It feels like a whoosh, not a sproing." That about describes it, even if it ain't engineer terminology.
My buddy Russ Lary threw a 6.5-20X variable power Leupold Tactical scope onto his T&E SR556, and cranked it all the way up. Twenty power magnification ain't much for sophisticated bench rest shooters, but for us meat n' potatoes riflemen, think "Hubble telescope with crosshairs." At about 100 yards, he found sub-one-inch groups easy, with Match grade 69 grain and 77 grain loads from Black Hills Ammunition shooting the tightest.
The piston system does indeed run cool. I could race a pair of 30-round magazines through it as fast as I could pull the trigger, and the carrier (bolt) was still room temperature to the touch. I'm told by folks I trust at Ruger that this thing has gone 20,000 rounds without a malfunction OR a cleaning in factory torture-testing. In the several hundred rounds of 5.56mm and .223 Remington that we've run through it, we didn't have any malfs either.
It's early yet, but I'm likin' this rifle!
Russ Lary discovers that the SR556 is accurate…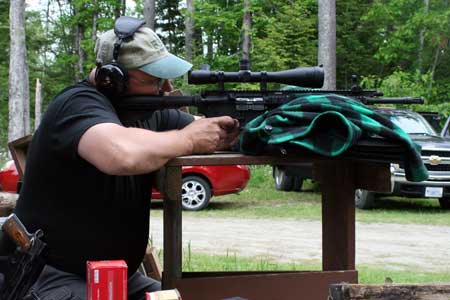 …Gail Pepin discovers that the SR556 is reliable…

…and Mas discovers that the SR556 is fun.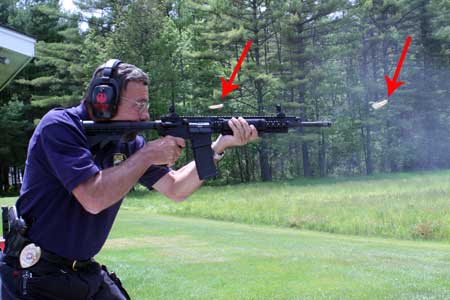 On the SR556 production line.