The 2015 National Rifle Association Annual Meeting is done.  According to The Shooting Wire, attendance – which had been estimated at 70,000 in the newspapers – was actually somewhat in excess of 78,000.
Nashville, generally seen as a blue island in a red state, proved to be extremely welcoming to the NRA influx.  A great many of us in attendance were carrying guns, some openly, which is legal there.  Any untoward incidents would have been trumpeted to the skies by the national media.  Apparently, none took place, proving once again the truth in the Heinlein quote popularized by Jeff Cooper: "An armed society is a polite society."
Some interesting guns were seen.  The long-awaited Glock 43 slim-line 7-shot 9mm was introduced to the public. I previewed this gun in these pages last month, and now have my own which is well into testing phase.  My time with it on the 25 yard bench was brief, but it gave me five shots in 2.10" at that distance with Federal 9BP 115 grain hollow points, and I know I pulled one of those shots a little bit.  You have to make sure the magazine is seated all the way, kinda like with an AR15, but I'm not finding any other quirks with it yet.
In rifles, I'm intrigued with Nosler's new high performance 7mm round, the .28 Nosler. A 160 grain AccuBond bullet at 3300 feet per second has a lot of potential.
In working shotguns, Mossberg's hugely popular Model 500 is now available in a left-handed version.  With ambidextrous top-tang safety, the Mossberg has always had appeal for southpaws, but one that ejects spent shells off to the left instead of distractingly across the shooter's field of vision has definite appeal to those who shoot from the left shoulder.
Next year, the NRAAM will be held about the same time in Louisville, Kentucky.
Hope to see you there.
With Mr. Colion Noir, the face of the new generation of gun owners.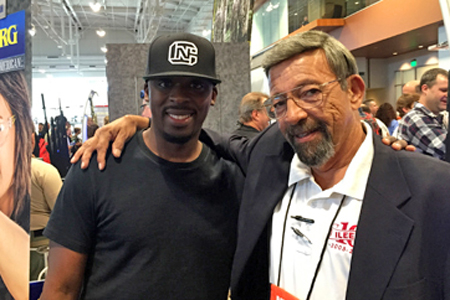 The new left-handed Mossberg 500 slide action shotgun.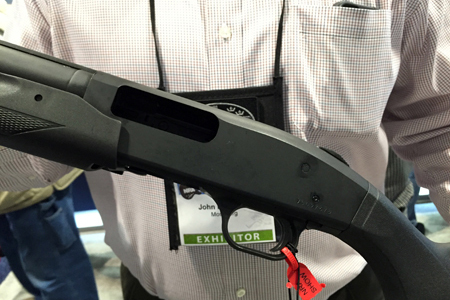 Speaking on self-defense pitfalls at the National Firearms Law Seminar at NRAAM.
.26 Nosler preceded this year's .28 Nosler.