Yee-haw! Today, my buddy John Strayer and I are "one year helicopter crash free."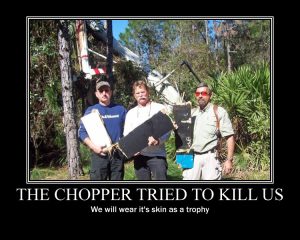 A year ago  we and pilot Graham Harward managed to walk  stagger away more or less intact from what one commentator called a "hard landing."  Yes, as a rule of thumb, "landing" upside down is hard whatever the conveyance.
We're all completely recovered, and the scars are just souvenirs.  No lawsuits; we knew what we were getting into when we stepped aboard the helicopter.
The incident, like all such things, gave each of us involved a sharpened appreciation of the people we love, and the people we serve.  (We all got a pretty good dose of adrenaline and survival euphoria, too.)
Thanks to all for the kind support after it happened.  Lessons came from it. John had a gun in hand when we lost power, and the bird went down too fast for him to holster; I've mentioned his impressive trigger finger discipline in every firearms safety lecture I've given since, and discussed it more in Guns Magazine.
Another lesson, of course, is that our being helicopter crash free may just have something to do with neither John nor I having been in a helicopter since.  Our significant others both told us in no uncertain terms:
NO. MORE. HELICOPTERS. EVER!!!
We have replied,
<Ummm…maybe bigger helicopters? With newer engines…?>
Our pilot, of course, has been flying ever since, doing contract helicopter work, and doing just fine.
But, seriously, thanks for caring.  They tell us to live every day as if it was our last.  If I had done that, I would have given all my stuff away and the funeral director would be wondering where the body is for the last 51 and a half weeks.  Perhaps it suffices to live every day as if it might be your last, and try like hell to do something good with the time.