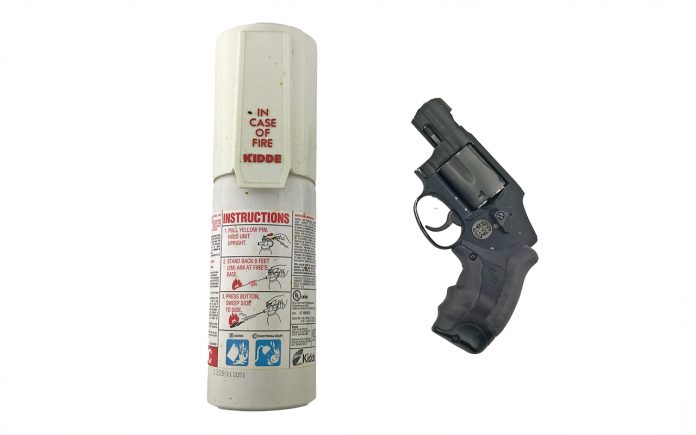 A deadly fire flared up in a Colorado supermarket. None of the good people inside had a fire extinguisher. Nine customers died before society's designated first responders could get there, and by then the fire was so intense it killed the first of those responders. As soon as more responders arrived and began fighting the fire, casualties stopped and so did the fire.
The media, politicians, and the President himself responded by demanding that the most efficient fire extinguishers be banned from private possession.
Yes, that's pretty much what happened at the King Sooper market where the latest mass murder occurred, only the fire came from the muzzle of a gun wielded by a madman who had gone under society's radar and passed a background check.
I've heard, but not yet confirmed, that the premises where the atrocity occurred was a gun free zone hunting preserve for psychopathic mass murderers, where law-abiding citizens were forbidden to carry guns for defense of self and others. As usual, the murders stopped as soon as the cowardly gunman faced armed defenders.
I've just returned from the Rangemaster Tactical Conference in Dallas, where genuine experts on these matters such as Tom Givens and Ed Monk confirmed that death tolls are cut dramatically short when would-be mass murderers are resisted with lawful, countervailing deadly force. This simple, incontrovertible truth has been known since the beginning.  But the same mass media that demands decent people be deprived of the most efficient defensive firearms, or even rendered entirely helpless, continues to make it clear to every thwarted loser full of hate that mass murder will give him longer than "fifteen minutes of fame," and indeed make him the focus of CNN reporting for days.
I've taught for decades that the fire extinguisher is a direct analog to the defensive firearm. It is an emergency life-saving rescue tool for the first responder – the citizen actually at the scene when deadly danger suddenly manifests itself – to extinguish lethal threat and clear a lane of safety for the innocent until society's designated official first responders can arrive to take over.
Feel free to make that point to the editor of your local newspaper, or the host of your local radio talk show.
The innocent victims cry out to us from the grave to not let their deaths have been in vain.