The Pin Shoot in Central Lake, Michigan is underway, with healthy attendance despite the ammo drought. Weather early in the week is absolutely perfect in this lakes region resort area. Contestants are lined up to shoot revolvers and autloloading pistols, carbines, pump and semiautomatic shotguns, and yes, fully automatic weapons (provided).
.22s are not neglected. Ten-shot Smith & Wesson .22 revolvers are issued to those who want to try their hand at shooting little bowling pin heads off a table with the tiny bullets.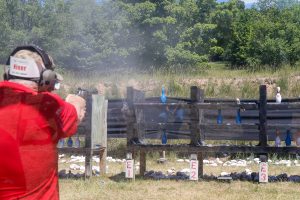 Lessons can be extrapolated. Anyone who thinks revolvers can't shoot fast enough to keep up with semiauto pistols hasn't watched past winner Barney Niner rip five bowling pins off a table with five very fast shots from his Smith & Wesson .357 Magnum.
In turn, anyone who wants to validate the choice of a 9mm autoloader has only to watch Greg Blough, who dominated the last match in 2019 (2020 was canceled by COVID) shoot down 13 pins in 4.8 seconds with his.
The match continues. We'll keep you posted.