What shooters, with what guns, won Pin Shoot 2018?  The answers might surprise you.  Technology popular in the 1890s did surprisingly well.
Shotguns
One-Person Shotgun requires the shooter to blast eight bowling pins completely off the three-tiered table with only eight rounds of buckshot in the gun. This event was won by Patrick Sweeney, the long-time handgun editor of Guns & Ammo magazine, with a time I recall as under four seconds. He used a Remington 1100 autoloading 12 gauge, with Sellier & Bellot standard pressure 12-pellet 00 buckshot loads.
12 X 12 requires the shotgunner to use rifled slugs to dump a dozen heavy steel targets at distances from 50 to 100 yards, no optical sights allowed. The winner was Ned Christiansen, with ghost ring iron sights on a BPS (Browning Pump Shotgun) and famously accurate and hard-hitting Brenneke slugs. Yes, you heard me correctly: a slide action beat the autos.  A master gunsmith, Ned had noted that the bottom ejection design of his BPS made it slower to reload a slug at a time, so he simply cut a loading port into the side of the shotgun.
Brad Palmer races a One-Person Shotgun table. He finished well.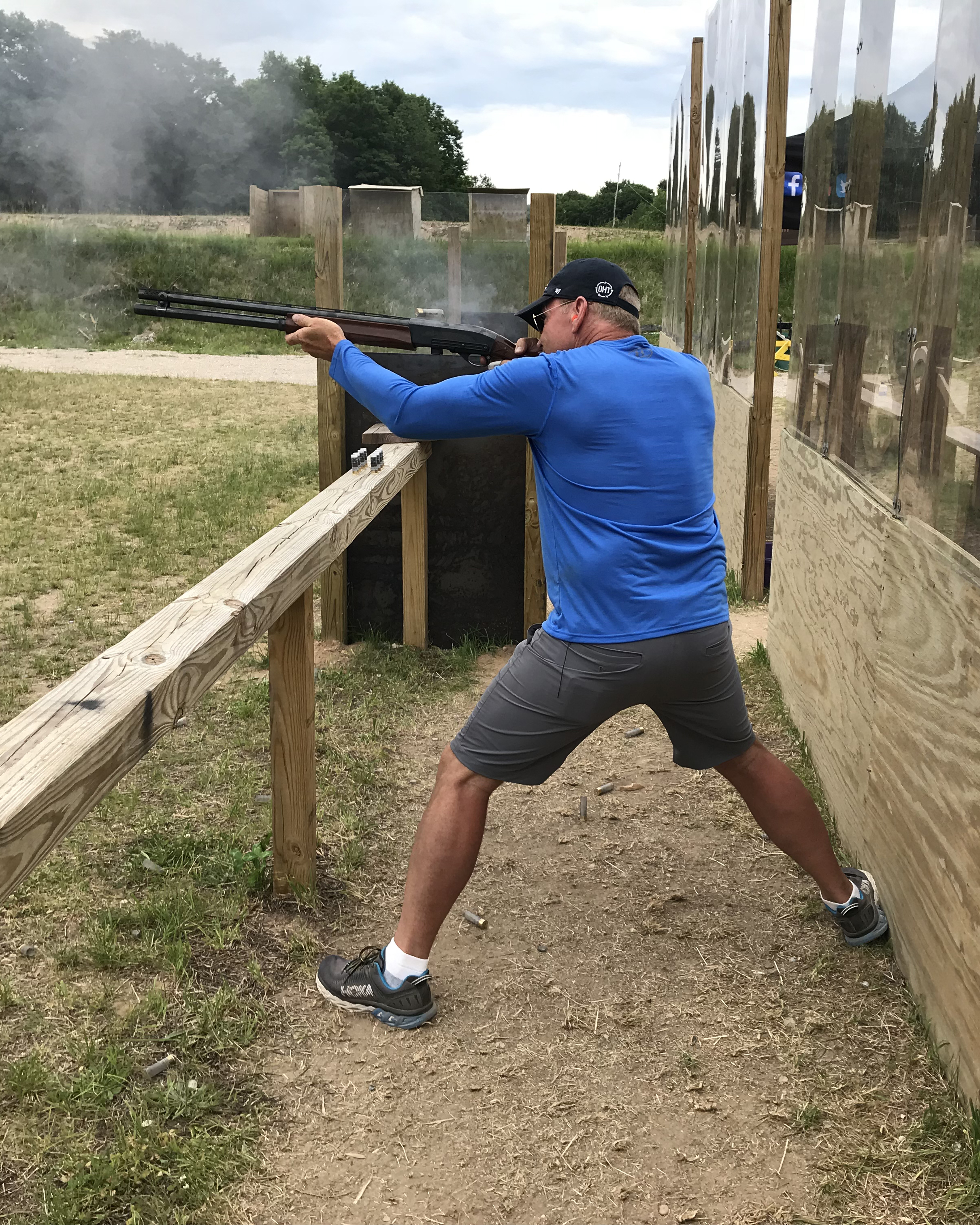 Three-Person Team comprises two shotgunners and one handgunner. The Hauserman family captured this one, with Dan running a Caspian 1911 .45 pistol that appeared to be stock configuration, Dakota wielding her Winchester Super-X 12 gauge autoloader, and Levi using a Remington 870 12 gauge pump gun.
Team Estrogen: From left, Bonnie Young and Deb Higgins on shotguns and Gail Pepin on pistol get ready to gang up on a couple dozen pins against the stopwatch.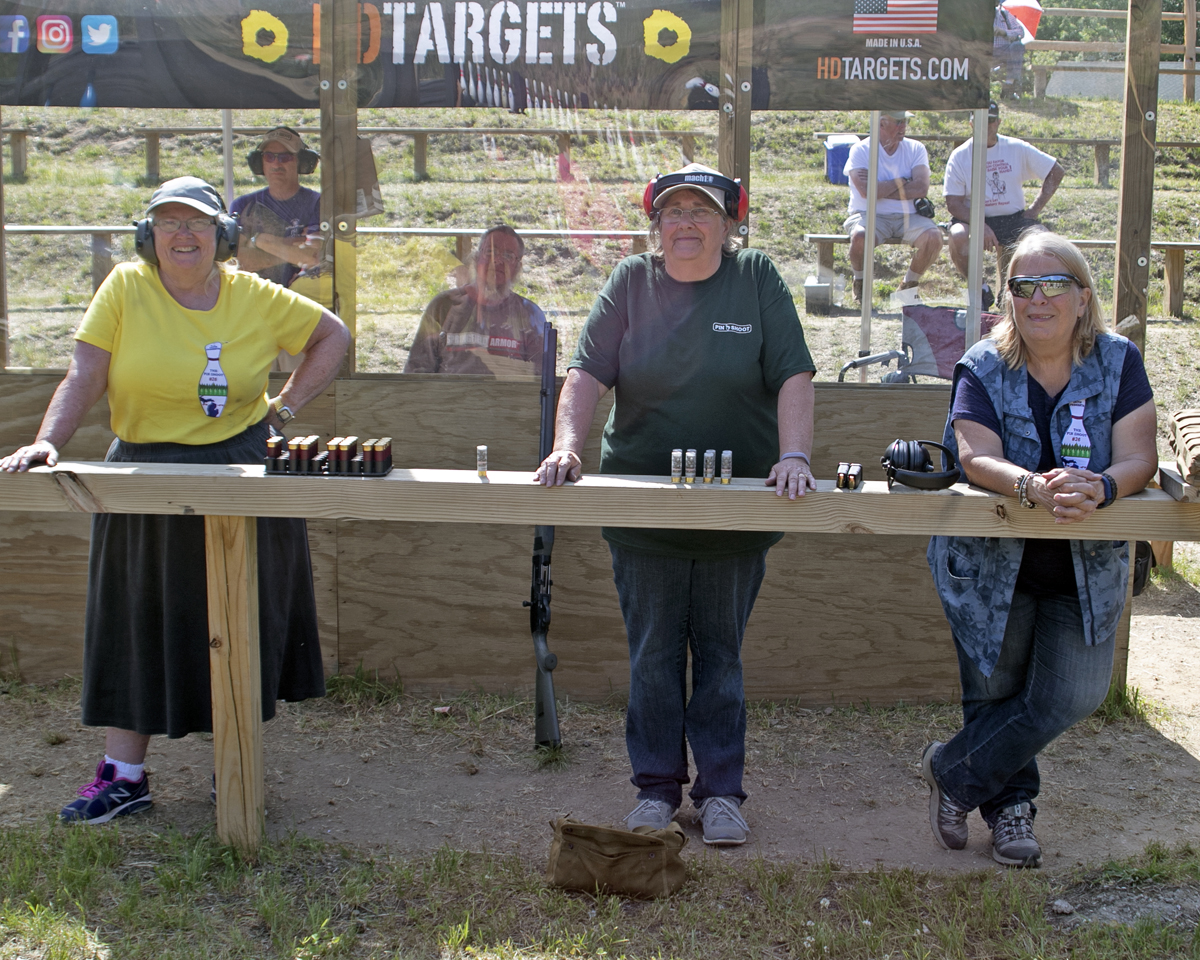 Rifles
223 X 39 sees two shooters with AR15s or other semiautomatic centerfire rifles facing 39 steel targets. One can shoot from prone or bench rest, while the other must fire from standing offhand.  Kim Heath-Chudwin and her husband Jeff Chudwin captured this one.  No surprise: each is a former winner of the National Patrol Rifle Championships, and Kim modestly told no one that a matter of days before, she had regained the NPRC title, the only woman shooting against the SWAT studs. She used a "frankengun" based on a Colt AR15 with 3.5-10X variable power Leupold scope, while Jeff shot a Larue System AR with Elcan Spectra DR scope. Jeff also won a side event called "Four-Play," so dubbed because it encompasses handgun, rifle, shotgun and provided submachine gun in a single run.
Power Couple: Jeff and Kim Chudwin with the AR15s they used to dominate the 223 team event.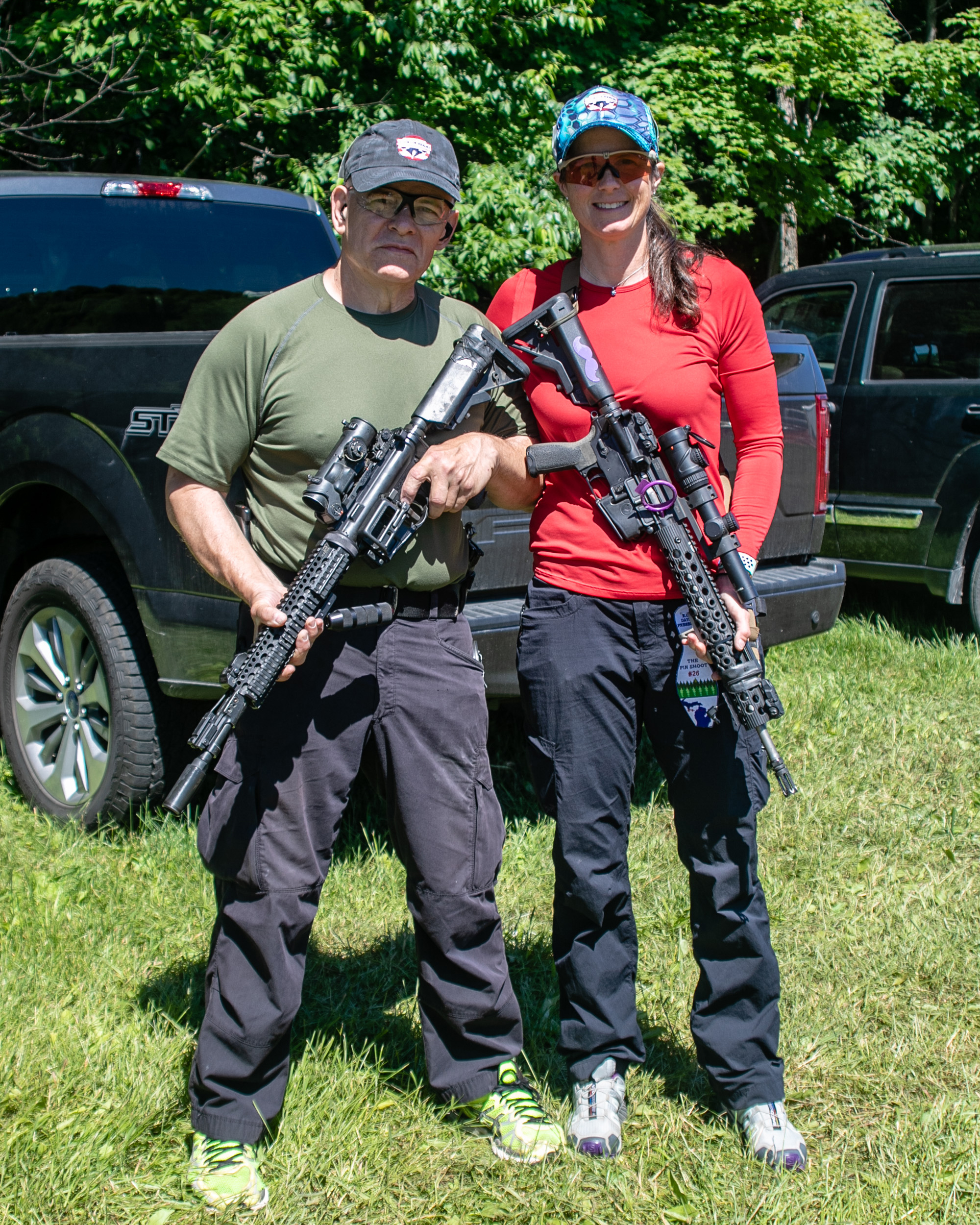 Handguns
Concealed Carry saw the supposedly obsolete revolver beat all the compact auto pistols when Jess Christiansen shot five tables of five pins each in an average time of 7.22 seconds. He used a Smith & Wesson Model 686 .357 Magnum with 2.5" barrel and heavy 235 grain bullet handloads.
Stock Gun, the cornerstone event of this long-standing match, was won by a salty veteran with decades of experience in national level competition, Vance Schmid. He used the Hybrid-ported Colt Government .45 pistol he carried on duty prior to retirement, with his times on the five-pin tables running from 4.3 to 5.5 seconds.
Pin Gun, which allows longer barrel handguns and extended recoil compensators, was captured by another vet of the old Second Chance days, Felipe Campos. This match tends to be a family affair: Phil came with his daughter Sara, and won this event with a gun Ned Christianson had built from a Colt .45 for Phil's wife Sue way back in 1992.
Space Gun permits optical sights along with the compensators, and you'd expect high-tech autoloaders to rule here, but the revolver came to the forefront again. Richard Hupp used an eight-shot Smith & Wesson Model 627 .357 Magnum with C-More red dot sight to dominate the event, with an average time of 4.2 seconds on the five-pin tables, and a fastest time of 3.8 seconds.
9 X 12 is the only event where a 9mm pistol is competitive, because as a nod to this mildest of "accepted service pistol calibers" this is the one event where the pins only have to be knocked over, not blasted three feet back off the table. Greg Blough won here, shooting a 9mm 1911 STI Custom and dumping a dozen pins in a blazing 5.5 seconds.
The Big Push is geared to the most powerful hunting handguns, and with three heavy tenpins having to be blasted a whopping 14.5 feet back and away, the contestant is definitely in Revolver Country. The winner was Richard Hupp again, this time vying with a long barrel Smith & Wesson .500 Magnum, with handloads comprising a 500 grain bullet at 1200 feet per second.
8-Pin is a revolver-only event, with a mandatory reload. The gun to use is the Smith & Wesson revolver chambered for the rimless .45 Auto cartridge, reloaded with the fastest possible system for recharging a six-gun, moon clips. The winner was Barney Niner with a Model 625 S&W.
The date will soon be set for Pin Shoot 2019. There will be shooter categories to separate Masters like those above from what founder Rich Davis calls OSS, Ordinary Standard Shooters, and there is talk of reduced entry fees to make the match more attractive to more shooters. Keep an eye on their website, www.pinshoot.com.