Flew to Tulsa last Friday from Chicago with Andy Stanford, talking shop all the way. Andy is the founder of the Options for Personal Security (OPS) firearms training school, a former winner of the National Tactical Invitational, author of "Surgical Speed Shooting," and low-light shooting instructor for SureFire. We were going from the International Law Enforcement Educators and Trainers Association (ILEETA) to the National Tactical Conference and Polite Society event. Andy commented that Polite Society had done for private citizens what International Association of Law Enforcement Firearms Instructors, American Society of Law Enforcement Trainers, and ILEETA had done for police in firearms training: exposing folks all over the country to the latest and greatest international research and training in the field.
Another old friend and colleague, John Farnam, put it best in his comments after the weekend was over: "Lots of cops attended, but there were many non-police too and cross-pollination was rampant! We all learned much from each other…much credit goes to Tom and Lynn Givens for organizing and orchestrating this wonderful event." Despite the economy, the seminar was full, with about the same 150-person turnout as last year.
Tom and Lynn own the Rangemaster training center in Memphis, where Tom tells us the violent crime rate exceeds that of Los Angeles by a little more than double. A former Memphis cop who saw the reality of the streets, Tom went on to train armed citizens to protect themselves. He's up to 52 of his graduates who have been in self-defense gunfights. All have won. He told us that in 2007, Memphis recorded 32 justifiable homicides in self-defense by private citizens in the city, and only 5 by the police.
Anyone interested in attending next year's conference, or taking training direct from Tom and his excellent crew in Memphis, can check out his website at www.rangemaster.com. I'll be doing a 40-hour class for him there next August, and am very much looking forward to it. Congrats to Todd Louis Green at www.pistol-training.com, who won the Polite Society match with a blazing display of combat pistolcraft using a Heckler and Koch .45 drawn from concealment, and ran a great charity side-match. More on that worthy endeavor later.
It was good to see what Brother Farnam so aptly called "cross-pollination" between police and law-abiding armed citizens. Speaking as someone with a foot in each world, I find it a very natural and well-balanced juxtaposition.
Tom Givens lecturing.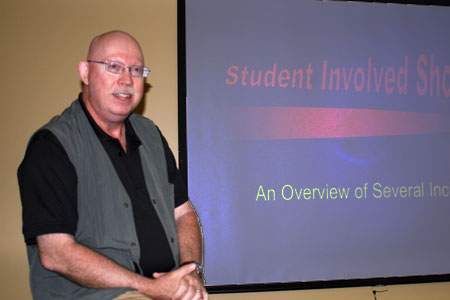 Todd Green winning the Polite Society match. Arrow points to spent casing from his HK .45 auto. Note that muzzle is still on target: excellent control.