Christmas Eve and Christmas Night saw full moons for the first time since 1977, I'm told. Just  too purty for the Evil Princess not to photograph.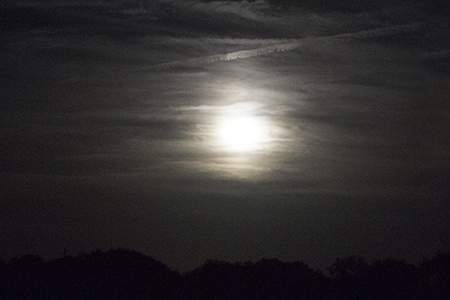 The approaching New Year brings with it challenges for those who fight for gun owners' civil rights.  The latest incarnation of the useless old "assault rifle ban."  Democrat candidates for President fighting to see who can be the MOST anti-gun/anti-self-defense candidate.
Christmas has, however, had its bright spots.  While the prohibitionists were trying to tell Americans that gun owners are a radical minority, the Government's own statistics for NICS checks for firearms sales showed an all-time record on Black Friday, the big Christmas shopping day that follows Thanksgiving.  The gun shop owners I stay in touch with tell me that sales have been extremely brisk, AND THAT MANY OF THEM ARE TO FIRST-TIME GUN BUYERS.
When those who would deprive you of your rights make a mockery of themselves, that's something to celebrate, too.  It happened in New York State just before Christmas, when lawmakers floated a bill that would limit citizens to buying no more than two gun-loads of ammunition every ninety days. Doing the math, Washington Times said, "The provision would limit the amount of bullets a gun owner can buy to no more than twice the amount of the capacity of the weapon ever 90 days, which means someone who owns a six-shooter could only buy 12 bullets every three months, the Brooklyn Eagle reported." See the whole story here.
Quite apart from the fact that ammunition is not normally sold by the cartridge – typical packaging is 20 to 50 cartridges per box for brass-case centerfire – it would take years to accumulate enough ammunition for a new shooter to take a firearms safety course.  And, taken to its logical stupid extreme, a hunter who preferred a single shot rifle could only have eight cartridges per year…not even enough to sight in, let alone practice and maintain proficiency.  Target shooting in all its forms would become impossible.
Why celebrate that stupidity? Because it brings the prohibitionists right out of the closet and past their fake "gun safety" argument, and exposes them to the light of day (and the light of reason) before the vast middle ground of American voters. You don't even need the light of a full Christmas moon to see the hypocrisy in the agenda of the selfsame politicians who said in the past, "We won't interfere with your target shooting or hunting or self-protection."