Sad tidings: the passing this week of Ed Nowicki in Wisconsin. My career has brought me into contact with literally thousands of cops. A very few among them deserved the title Supercop. Ed was one such.
Nowicki began his career on the mean streets of Chicago in some of that city's most turbulent years. He not only survived, but prevailed in, six gunfights. He later became a chief of police in a Wisconsin community, and even a lay judge. His life experience gave him an awesome perspective, both wide and deep, of criminal justice in America.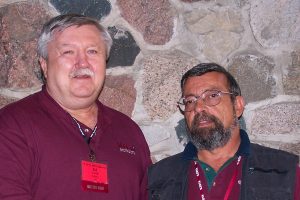 Impressive as he was as a street cop and a leader of police, his strongest point was teaching. Thugs were terrified of him because he had not only imposing size and strength, but a deep knowledge of the fighting arts. Students loved him because this bear of a man could teach the smallest, weakest officer how to prevail using leverage, force-multiplying tools, and above all, cool competence under life-threatening pressure. He taught that compassion and reason had to accompany the ability to use all levels of force.
There has been no greater leader in law enforcement training in my lifetime. I met Ed in the late 1970s when we both taught at the Monadnock PR-24 Baton Instructors' Seminar, held annually back then at OPOTA, the Ohio Peace Officer Training Academy.  In the latter 1980s, he was the leader who formed ASLET, the American Society of Law Enforcement Trainers.  In the early 2000s, when internecine warfare threatened that organization, he created ILEETA, the International Law Enforcement Educators and Trainers Association.  When ASLET sank in 2006, ILEETA became the lifeboat that picked up the survivors, and continues today as the world's premier multi-disciplinary law enforcement training organization under Ed's chosen successor, Harvey Hedden.
Ed had spent many years fighting the terrible, debilitating disease that finally killed him all too soon. He leaves a legacy of professionalism and advancement in law enforcement training that will never be equaled.
Deepest condolences to his widow, Dianne, and his fine family. All of us in the training sector should strive to continue his legacy.